Eternal Ancestors Exhibit
Today I had an hour to go back to the Eternal Ancestry exhibit at the Metropolitan Museum of Art to sketch the wonderful faces on these Reliquaries. They are 1-2 feet in height - some are full figures, but most are just heads on a standard base. They are mostly earthcolors with some gold, bronze, silver, and even feathers.
I walked through with my Moleskine watercolor notebook and walnut brown Albrecht Durer watercolor pencil and just sketched pieces that I really liked. The digital photo image below shows all of the faces across a double page spread in the Moleskine. I originally intended to add water, but then started using the pencil for small details meaning these strokes would be lost if I painted over the pencil.

Here is the first page in more detail (scanned):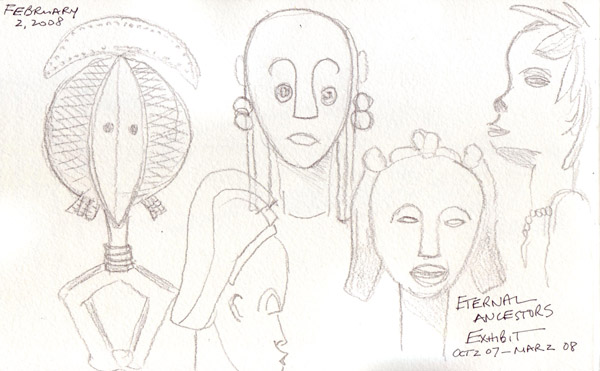 Here is the second page in more detail (scanned):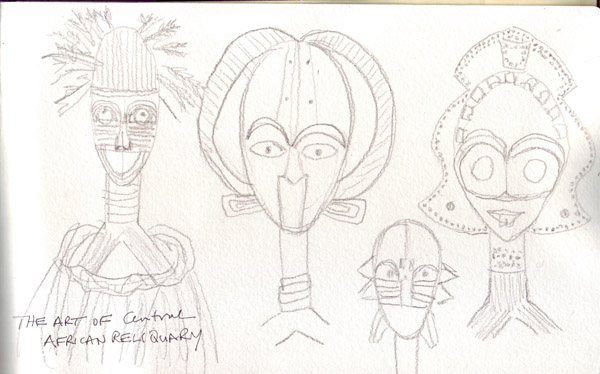 I wasn't at all sure what would happen if I sprayed these pages with Fixative, so I sketched another page with another mask and tried it. There was no running or smearing of the color - and in fact I couldn't get the pencil to rewet so I could add color.
The exhibit doesn't close until March 2nd, so I hope to have time to sketch more of these beautiful 19th and 20th C. sculptures from Central Africa.