Maintaining Control of the Coronavirus in New York City
I wanted to review and document our life in NYC in a collage - since the pandemic spread to the US.
New York City had its first documented China travel Covid-19 case on March 1st. On March 2nd a patient was reported in the county next to NYC, and he had no travel or known exposures. But he worked in Manhattan. This was the first sign that we had community spread in our area. This 2nd patient infected many people - most who attended two big social events with him as he was becoming symptomatic. This cluster in Westchester County was contained quickly by limiting travel in or out of the community. They set up testing, isolated positive cases, and traced and tested their contacts. Meanwhile testing kits were so limited that only people who traveled to China, or had contact with someone who did, could be tested here. It was many weeks later that the genome of our coronavirus proved that our early infections came from Europe - not China - so the City was already infected in the beginning of March.
The surge of new cases began full force on March 14th and by the apex of new cases on April 15 there were over 8000 new cases per day. On March 20th the Gov. instituted a strict "stay at home" mandate, and a daily morning briefing with lots of cheerleading by Governor Cuomo was able to slow the virus spread. Only when NYC met preset criteria for the number of new cases, and hospitalizations, did NYC begin a 4 phase reopening schedule on June 8th. The graph in my collage shows how long that took!
We are now in Phase 2, behind all of the other regions in our state. Yesterday we only had 189 new cases and for several days there were only 30 or less deaths. thousands of virus tests are done daily and only 1-1.2% of the tests are positive. The graph in the collage below is an actual copy of the statistics for NYC. When I walk in my neighborhood in the morning there are no groups of people congregating,80-90% of people are wearing masks, and we go out of out way to stay 6' away from others even with our masks on.
I don't think New Yorkers want to go back to our surge and consequent "stay at home" restrictions that lasted from March 20th to June 8th. There is an early warning "dashboard" on our state website for people to follow, and at the first sign that more cases or hospitalizations are occurring, Gov. Cuomo will dial back the "faucet and pipes" as he says continually. We currently have 1-1.2% positive tests per day (~30,000 tests per day) and less than 30 deaths per day.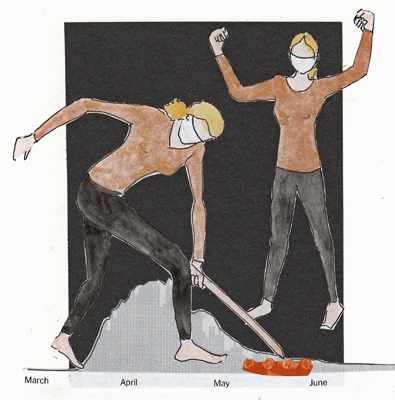 This is the graph for the daily death counts in NYC over the same time period. There was surge and very slow gradual decline as New Yorkers worked hard to contain the virus.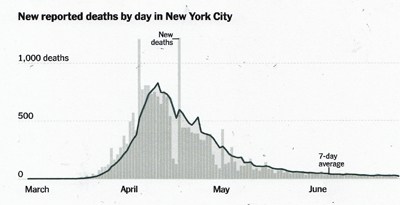 If you want to hear an example of good leadership, here is the 30 min briefing on the day he told the 3million people in this City that we were closing down.
Governor Cuomo had a televised briefing every morning and I understand my friends from around the country listened like the New Yorkers did. If you want to listen to "good leadership"