Art Progress 2007
Progress Report for 2007:
I copied my Goals from the 2006-2007 Progress/Goals entry on this blog and recorded 2007 PROGRESS after each Goal. I am currently reflecting on where I am and where I want to be at the end of 2008, so my 2008 GOALS will be posted this weekend.
1. Continue to sketch/paint everyday in my large Moleskine watercolor sketchbook.
I did do a daily sketch - and sometimes 2-3. On a few days when I was too busy to even open my sketchbook, I did my daily sketch the next morning and then another one at my usual time in the evening. The majority of my sketches are pen with watercolor washes. Most of the time I used the large Moleskine watercolor journal (I'm halfway through the 5th for the year), but I also added sketches to my London sketchbooks and all 3 recycled books that I made.
2. Complete each EDM weekly challenge and try to expand my skills by what I choose to paint for the challenge.
For the second year, I did all of the EDM Challenges in the 3-10 days after they were posted and tried to stretch my skills slightly by what I chose to sketch. I posted all of them on my blog, as one of my planned 2 entries per week.
3. Make plans for how I will use my new Eliz. I recycled book. I'm currently considering using it for more London sketches - from photos that I have taken during our visits. I have another Cachet journal for my London Travel Sketchbook Volume 3 and decided that I want to continue to use the same journal type for all of my London travel.
I completed 3 full Cachet Linen Watercolor sketchbooks during our London travels. There are approximately 150 pages in total from our 6 visits to London - my goals certainly were exceeded and I will always treasure these books. One sketch that I never posted was added as the final page to honor the birth of our grandson last Christmas in London. This sketch was made using colored pencil from a postcard I purchased at the Guercino drawing exhibit we saw at the Courtauld Gallery at Somerset House.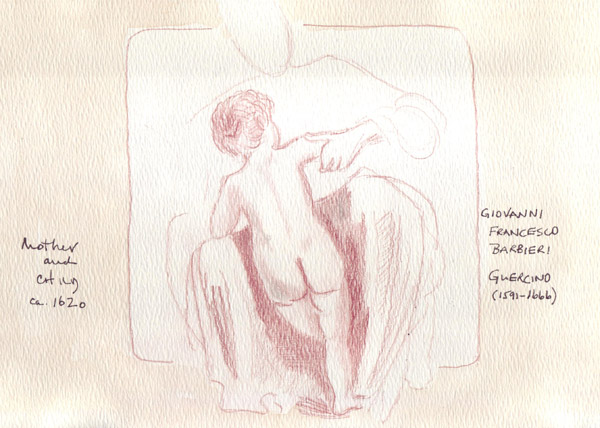 My Eliz. I recycled book has been used for playful sketches of Big Ben and most recently the Tower of London from photos that I took - using different techniques, even collage. If you look closely you can see I used the Holbein Henry VIII painting from the Tate Britain exhibit for the collage.
4. Recycle another book since I have more paper from my previous purchase. This time I will look for an old New York book that I can use for special days out and about my own city.
I recycled two additional books - one for New York and one Michaelangelo Sonnet bookfor some of my figure drawings.
5. Spend more time sketching human faces and figures. I'm not sure yet whether I want to take any life drawing classes because I love the challenge of learning on my own. I collected some copies of Holbein's portraits and Rodin's figure drawings from our museum visits this week. And I now own two Hockney drawing/portrait books. I will recreate some of these pieces from the 16th C, 19th C, and 20th C for fun and then immerse myself in my city and draw people to try to develop my own style.
I was very productive sketching figures - or body parts - and almost filled my recycled Michaelangelo Sonnet book for some of the sketches and my Moleskine for the rest. I alternated among Derwent light wash pencils, Albrecht Durer watercolor pencils, Zig Millenium pen with watercolor wash, and 2B pencils for the sketches.
My references included: Greek and Roman sculptures at the Metropolitan Museum of Art, photos of dancers, photos of nude figures from an artist book I purchased just for these exercises (The Nude Figure by Mark Smith), and occasionally even real people! But very few of my figures have faces - a goal for 2008!
6. Read some of the new art books on my shelf - starting with Betty Edward's book on color.
I continue to read art technique books, but never opened Betty Edward's book. This year I did 5 lessons from a Watercolor Skills book by Linda Elsworth. There are 5 more lessons to do, but I was temporarily derailed by a lesson on landscapes, my least favorite type of sketching/painting.
In May 2007 I decided to finally start an Eric Maisel book entitled The Creativity Book - a year's worth of inspiration and guidance (it has been on my shelf for several years). There are 2 exercises to complete per week and I am now on Week 31! I have done some sketching and painting, but mostly writing, as I explore creativity in general and my creative dreams in particular.
7. Make a "larger-than-journal size" watercolor painting of the house my daughter and son-in-law rented this year in London so we have a personal visual memory of this wonderful year when they return to New York mid-year.
I did this painting and included it as part of a big "London" Christmas gift that I gave to my daughter and son-in-law. The gift also included a DVD of all of the photos (1000s) that I took of their family and London and a Guest Book that our family kept everytime we visited them. I printed some of my sketches for the book and even included an essay re: my reflections on our visits. I was also able to make a photo collage of them at the moment when they were leaving New York in May 2006 and then leaving London in June 2007. The children grew lots during the year and and another grandson was born there mid-year.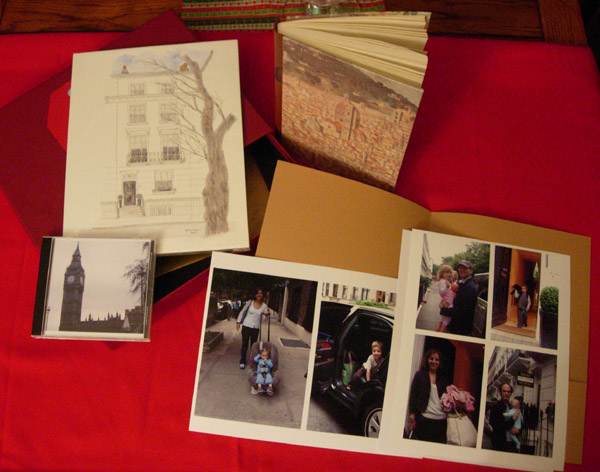 8. Be a visitor in my own city and keep a Manhattan "travel" journal. I now have scattered journal pages throughout my daily sketchbooks.
I did continue to sketch in NYC throughout the year - and even started a series of sketches entitled "10 blocks from Home." My New York City sketches, however, are scattered through my New York recycled book and my regular Moleskine sketchbook. This occurred because I used whatever book I had with me when I decided to sketch. Since I use both sides of a page in my Moleskine, I can't easily move these sketches - and I just have to be OK about this level of disorganization!