Fun "Art" Day With Pat
Two members of our Journal Study Group are in Europe at the moment, so Pat and I consoled ourselves with lunch, an art auction preview, the Pastel Society of America Show, and a late afternoon stop for coffee and sweets.
Swann Galleries is auctioning several hundred prints of old New York today. so we went to enjoy them during the previews. I was so inspired by these drawings of master artists that I wanted to go out then and sketch my way through this wonderful City.
We walked from Swann to Gramercy Park and went to see the current exhibit from the Pastel Society of America. Neither of us use pastels and were amazed at the photographic detail possible. When we left the National Arts Club, we stopped across the street and did quick sketches of the entrance for me to work out my need to "sketch NYC."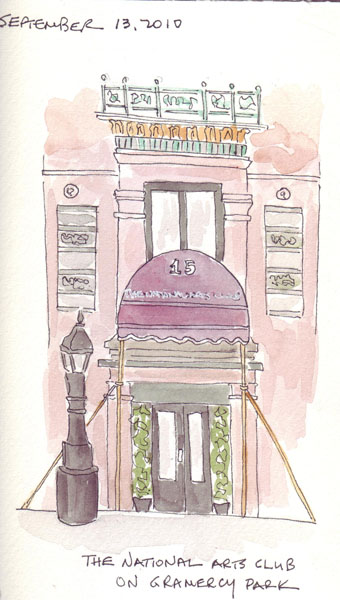 While drinking our coffee, both of us wanted to do another in our Carla Sonheim 100 Faces project. So we sketched each other, across the table, with our non-dominant hands. Quite a challenge. Here are 4 more of my Face series, these are all full face instead of profile like the last ones I uploaded. Pat is the one with sunglasses on her head and reading glasses on her nose! It makes her look really young which she says is OK, because in her mind she is 22 years old.