Matisse, A Purple Coat, and the 1913 NYC Armory Show
I am posting the paintings that I did over the weekend, ending my week studying under Jeanne Oliver and Matisse, her master artist. This was week 1 of 9 weeks of online study with 9 contemporary artists and the Master they wanted to study ("Studying Under the Masters").
In my copy of a Matisse painting which I posted previously, I was drawn to paintings in which he had his models wearing the purple coat from his "working library." Here is a photo of the actual coat that was in the 2005 Matisse exhibit at the Metropolitan Museum of Art. I saw it then, paired with a painting, and never forgot it. When I found my copy of the photo, I immediately wanted to share it - I think it tells so much about how Matisse's love of textiles influenced his art.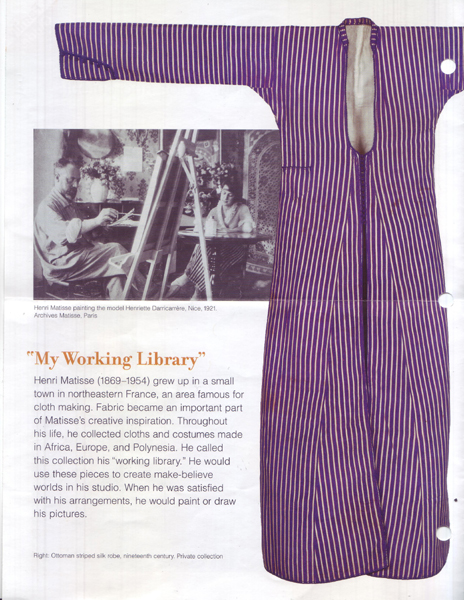 After painting a copy of a Matisse painting, "Lady in a Purple Coat," my assignment was to use what I learned to paint my own composition. I resketched one of my figure drawings from the Society of Illustrators and placed her in an environment that made me think about painting Matisse - ish.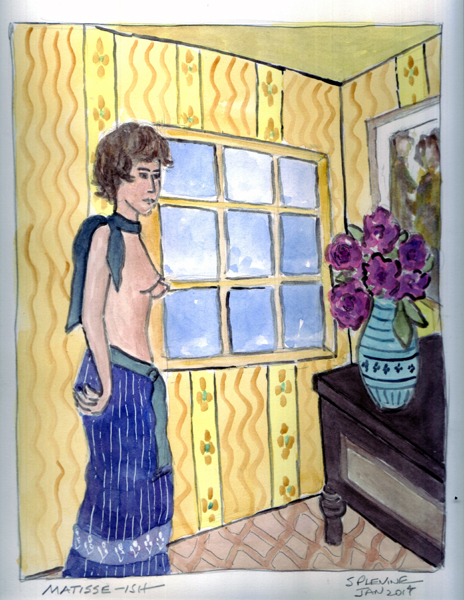 Matisse at The Armory Show in 1913:
On Saturday my husband and I went to the NY Historical Society to see "The Armory Show at 100" exhibit.
The Armory Show in 1913 contained nearly 1400 paintings, drawings, prints, and sculptures - showcasing American artists and introducing a new generation of Modern European Artists that shocked visitors to the exhibit. Matisse sent 13 paintings (including The Blue Nude and Red Studio), 3 drawings, and 1 sculpture and was the artist that created the most outrage!!
The Historical Society was able to borrow almost 100 of the original pieces and they have prepared a very scholarly introduction and discussion to the politics of mounting the exhibit and the public reaction that shaped Modern Art as we know it. Much of the information is available online.
This is an extensive discussion of the Armory Show: http://armory.nyhistory.org/about/
And here is the European Painting section which includes the "outrageous" "beast" Matisse (for my Jeanne Oliver classmates): http://armory.nyhistory.org/category/artworks/
And then look at the painting by American artist Robert Chanler in which his parodies the Fauves:
http://armory.nyhistory.org/parody-of-the-fauve-painters/
While at the exhibit, I sketched a Redon and painted my sketch when I returned home. Odilon Redon was featured in my Figure Drawing class at FIT this Fall and I never paid attention to him before. So here is my version of Redon's oil on paper painting called "Silence."