I was the lucky recipient of 3 of the new Strathmore Visual Journals from Rice Freeman-Zachary, and I promised that I would use them and share my comments.
These are very nicely sized books (5.5 X 8 inches) - not too big for purses, backpacks etc and not too small for those of us that like generous sized pages for their daily sketches. They have a thin first page with information about the journal which can be ripped off revealing a plain, sturdy brown front cover that is aesthetically more pleasing if you will keep the journals. Both front and back covers are very sturdy and make it very easy to sketch and paint in the books without other support. However, they are spiral - which means you need to learn to deal with the metal when drawing close to the edge of the page. And it may be tempting to remove pages that you don't like.

My first 7 daily journals were very similar in format - but with thinner covers and paper. I had problems working freely in journals that felt too precious and wrote essays about "journal angst." These sketchbooks would be good for beginners and for anyone suffering from similar angst.
Yesterday I followed Jane LaFazio's tutorial on mixed media journal pages - gluing on a map of Manhattan, then lightly painting the glossy map with Golden absorbent ground and then drawing and painting with pigma micron pens and watercolor washes. The paper in this 90lb Strathmore Mixed-Media Visual Journal buckled a little, but I was able to scan it without scanner shadows from paper buckling.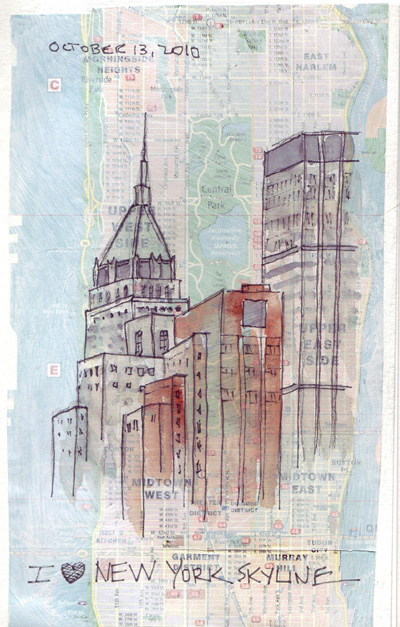 I will periodically upload pages that I do in the 2 other Strathmore Visual Journals - the 90 lb watercolor journal and the 100 lb Bristol-vellum journal. I already have 3 pages done in each and love the playful attitude that I have about using them. I still love my handbound, cased-in, watercolor journals with 140 lb watercolor paper, especially now that I am also dying fabric for the book cloth. But these Strathmore journals are really easy to pick up and use when you just want to experiment and draw/paint something.