Comics: Out of My Art Comfort Zone
Danny Gregory taught me about comics in his opening week of Sketchbook School 6 - Polishing. As a child I read about Archie, Veronica, Betty, and Jughead. In college I read whole books of Peanut comics by Charles Shultz. In my adult years I read random strips of Cathy and Dilbert. Our first homework assignment was to draw a conversation as a comic. I thought about this assignment for a week while all of my ideas were almost instantly rejected. Then, as a second week began, I realized that the most important conversation was going on continually in my brain - between my Inner Critic and Me.
My Inner Critic is not a Monkey - like Danny's new book tells us (Shut Your Monkey). Mine has always been an old lady - a very hypercritical old lady and many of the things she tells me definitely are based in comments from my Mother Marge and Mother-in-law Miriam. My college roommate had a similar Mother named Mildred - so I usually call my Inner Critic Mildred, so my name for her is not so obviously from my own Family.
I painted my Inner Critic Mildred for an Everyday Matters Challenge in 2009. It is an old lady, and I called her a bag lady, with a bag full of scripts: "Not Creative," "Not Perfect," "No Skills," and "Why Bother?"
Fast forward to 2014 and another painting of Mildred, who says:
"Why do you want to make that? What are you going to do with it?
You will mess it up, and the whole thing will be ruined.
It will never be perfect, so why try?
You need to look for more information before starting.
Besides, it isn't even an original idea."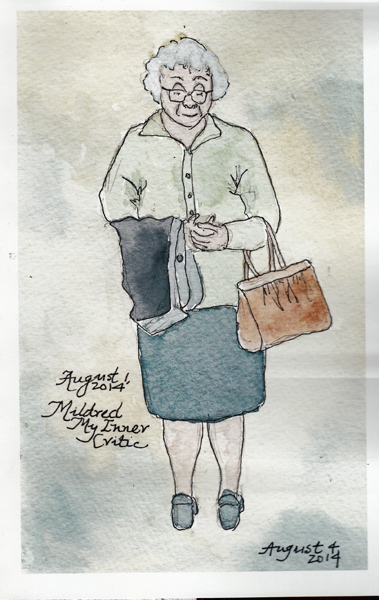 So here is my recent conversation with Mildred in a comic format!
Panels 1-4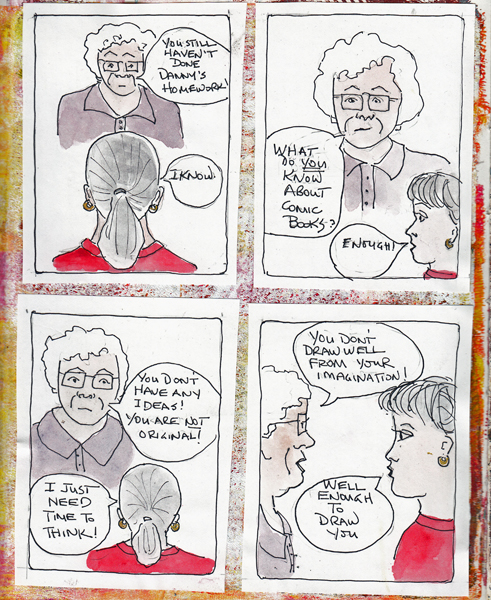 Panels 5-8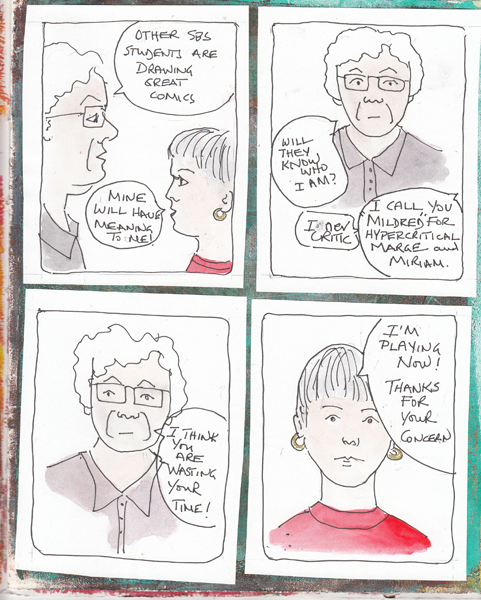 Conversation if it can't be read from my comic:
Critic: You still haven't done Danny's Homework.
Me: I know.
Critic: What do you know about comics?
Me: Enough.
Critic: You don't have any ideas. You are not original.
Me: I just need time to think.
Critic: You don't draw well from your imagination.
Me: Well enough to draw you!
Critic: Other Sketchbook Skool (SBS) students are drawing great comics.
Me: Mine will have meaning to me.
Critic: Will they know who I am?
Me: Inner Critic. I call you Mildred for hypercritical Marge and Miriam.
Critic: I think you are wasting your time.
Me: I'm playing now. Thanks for your concern.
Our second homework assignment was to draw "a day in our life" as a comic.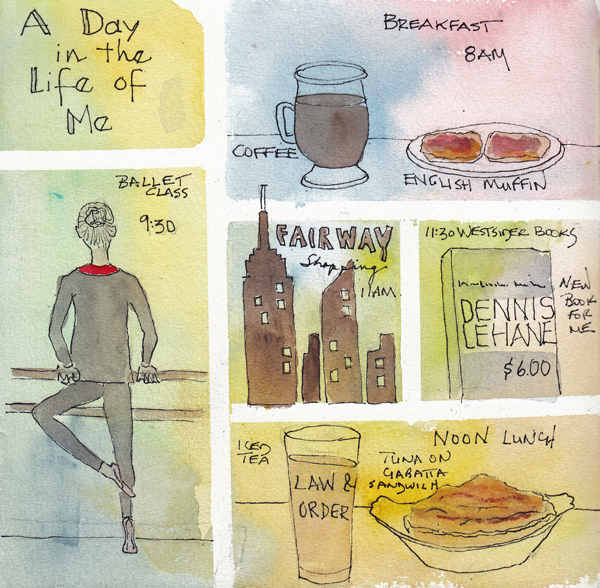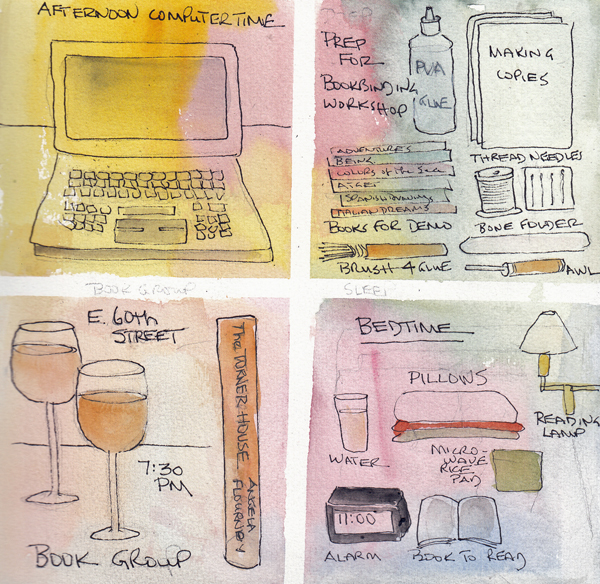 I love the Sketchbook School homework assignments and after fighting my Inner Critic when I'm out of my comfort zone, I do them. All except the original poster assignment from Jean-Christophe Defline. I'm still battlling Mildred about that one.
All of the illustrations in this blog post are now the beginning of a book I hadn't used. It should be fun to record my inner conversations and get them drawn on paper as a comic.