Marsden Hartley Exhibit at Met Breuer and Lobsters
My friend Pat and I met for lunch on Tuesday and then visited the Marsden Hartley exhibit at the Met Breuer. As we were entering, we met our friend Judy T. and then enjoyed the exhibit together. This exhibit focuses on Hartley's years in Maine. I must admit that I didn't like his landscape paintings, but did like his figures and a few landscapes with churches and another with a wonky lighthouse. I sketched from 3 paintings and here display them on the same sketchbook page and include a link to a Met video with some of the paintings.
http://metmuseum.org/exhibitions/listings/2017/marsden-hartley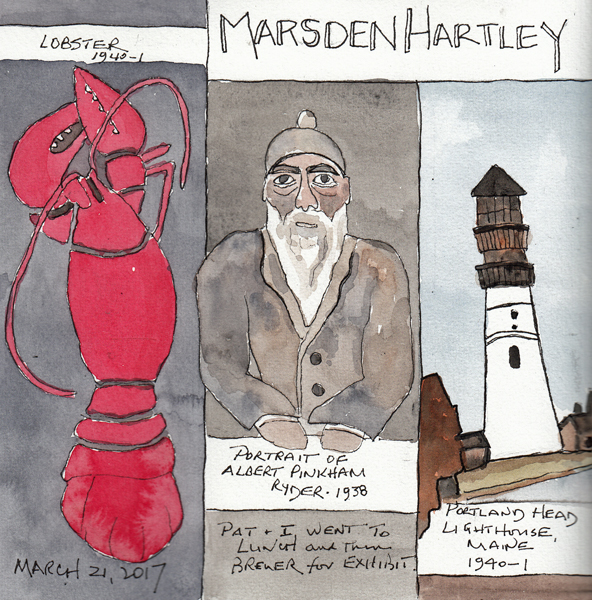 I sketched the lobster because I was interested in Hartley's simplification of his lobster painting. After recent allergy testing, I was convinced that I could never again eat lobster, and always needed to carry my epipen to restaurants where there may be cross-contamination among shellfish in the kitchen. We always have a wonderful lobster dinner with our friends at the beach, and I tolerated lobsters boiled for 19 minutes each year. My allergist was horrified, and I've agreed that I will NEVER do that again. She says you might get away with it, "until you don't - when the stars and the moon line up in a different way."
So this is my goodbye to Lobsters: A rough sketch from an uncooked lobster (2003), the conversion of that sketch to a painted drawing in my sketchbook, and another painting of a lobster, uncooked, from one our beach feasts in 2012.