EDM Challenge #230: Draw a Map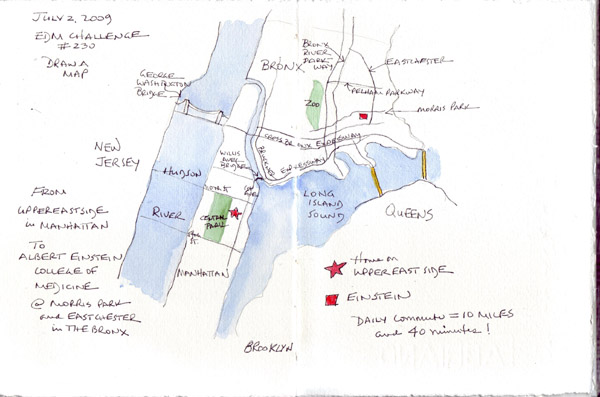 Last Tuesday was my last official workday, 40 years after I graduated from Medical School. I made this trip from my apartment on the Upper Eastside of Manhattan to Albert Einstein College of Medicine regularly - and was always amazed that driving 10 miles against rush hour traffic in the City took me almost 40 minutes from door to door. Of course I first needed to walk from my apartment to our garage - stopping at the fruit and vegetable vendor on the street to get fruit for breakfast. Then I always stopped to talk with the Garage supervisor about her newest baby. At the other end, I walked several blocks from the parking garage to my building - checking out the flowers that were in bloom or following the progress of autumn leaves or new buds in the Spring.
I love drawing maps and started each of my 3 London sketchbooks with ever more detailed maps of the area in Chelsea where my daughter and her family lived.
We just returned from a Family Holiday at the Beach - and I need to scan and post at least one sketchbook page from our visit.