A Full Day of Drawing
Yesterday my husband and I went to an open rehearsal of the Philharmonic Orchestra in NYC - with Itzhak Perlman playing the Mendelssohn Violin Concerto. While my husband waited on line inside Avery Fisher Hall, I sketched the new Lincoln Center Plaza Fountain with State Theater behind it.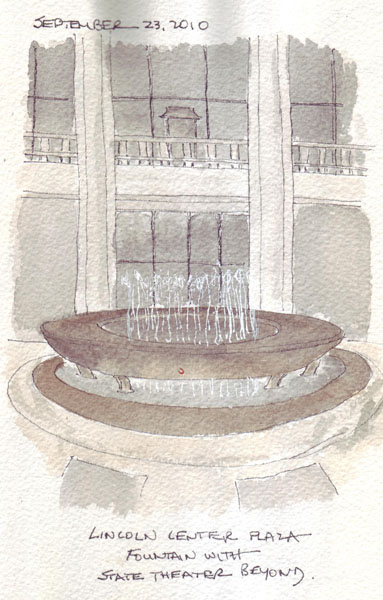 I'm trying to fill up one of my first recycled books and it has paper that I hate. And my scanner also hates it and the buckling of the paper shows as dark shadows.
It is great fun to see the Orchestra and Conductor dressed in jeans and T-shirts - and to hear parts of each piece several times while they work on it. I'm getting better at sketching people who return to the same or similar positions frequently so I decided to sketch the Music Director, Alan Gilbert, while he was conducting the first piece. Then I sketched the Concertmaster.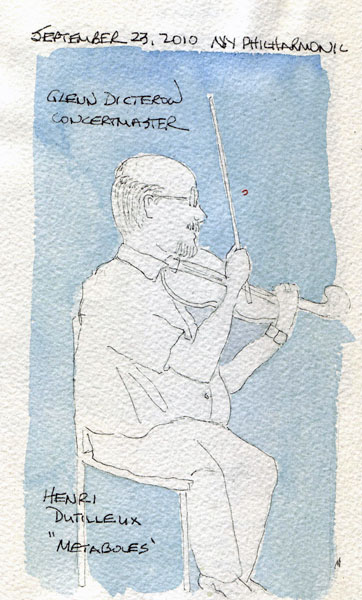 After sketching at the morning concert, I felt like sketching more and went to Figure Drawing at the Society of Illustrators last night. Before the models appeared and while the jazz group was setting up, I did a quick small painting of the bass player. Sketches from figure drawing will be scanned and uploaded later....
My blog has been down several times in the last week, and my poor son, who maintains the server it was on, had to come home from several long days at work and try to fix it. Last night he moved it to a new server, so I think it will be OK. Isn't he amazing? Although he is a self-taught computer guru, he is a busy physician and was packing for morning flight with his wife and my fabulous grand daughter Annabelle. A public thank you and a big hug for JJ.