Every Day in May 23
We love holiday weekends in New York City - because it is relatively quiet - emphasis on the word relatively. It never seemed like fun to join the masses escaping this island on Friday afternoon and trying to get back on the island on Monday evening. This year we decided to explore some of the areas of Central Park that we rarely visit. Today we walked up the Eastside of the Park to the Harlem Meer which is at the Northeast Corner. While my husband did the Saturday NY Times crossword puzzle, I did a sketch of the Dana Discovery Center - an educational center where children can also participate in "Catch and Release Fishing" in the Harlem Meer with rented poles and instruction and bait provided by the Center.
I painted the front entrance to the Center but somehow made it much more squat than it really is.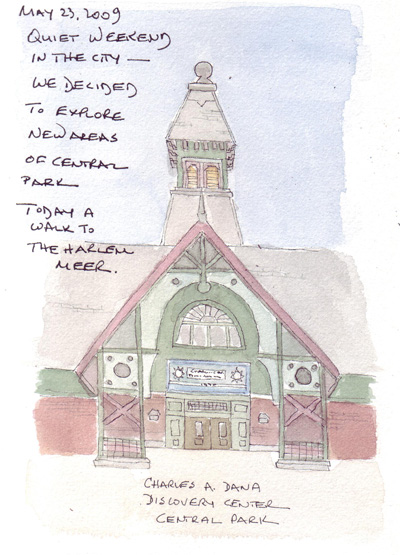 Did you know that Central Park (843 acres) is the first major public park built in America? A competition for the design was held in 1858 and it took 18 years to build it in accordance with Frederick Olmstead and Calvert Vaux's plan. There are 50 miles of pedestrian paths, so we will never run out of new pathways to explore.