Recent Sketchbook Pages
I was invited to hand applique a subway mosaic square for the 2011 Raffle Quilt for the Empire Quilt Guild in Manhattan. I chose a photo that I really liked only to find out that it was a mosaic of King's College which later became Columbia University. We are a Columbia family - with 6 undergraduate and graduate degrees among my husband and children. I went down to the Chambers Street IRT station to see and photograph these old platform mosaics and then sketched and painted one as I planned my quilt applique square.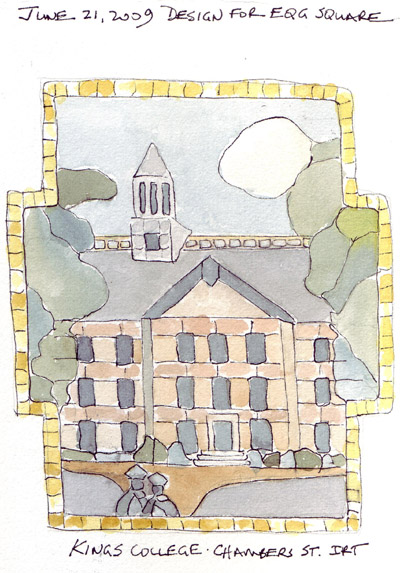 My husband and I went to the James Ensor exhibit at the Museum of Modern Art on Saturday. I knew very little about the artist, and enjoyed seeing his paintings. But of course his sketchbook and drawings were the highlight for me. Since the sun was out, and we were so tired of daily rain, we sat in the Sculpture Garden where I sketched Picasso's She Goat and my husband did the Saturday NY Times crossword puzzle.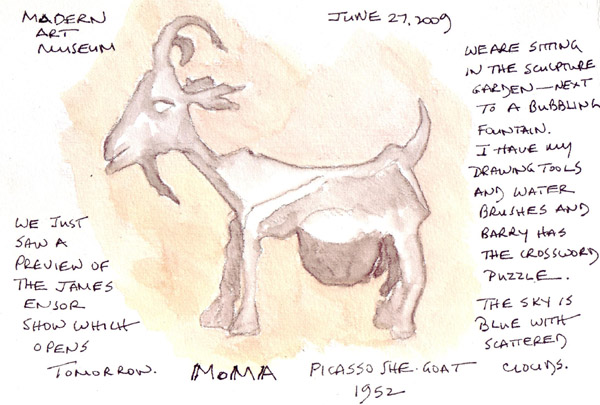 Today I retired, almost exactly 40 years after I graduated from medical school. During that time I worked at the University of Chicago, The University of California at San Diego, The University of Texas in San Antonio, and Albert Einstein College of Medicine. In those 40 years, the number of women increased from <10% of each medical school class to slightly more than 50% of each class. There was no day care when my first child was born, and 3 year olds were only "supposed" to be away from their mothers and in nursery school two mornings each week. I loved my career, but my greatest joy was my 3 children and now my grandchildren. I feel fortunate that I have so many active interests that I will never be bored. I sketched my work suit from today to my bathing suit for the beach on Thursday!