Recent Exhibit Visits: Andy Warhol and Vigee Le Brun
The NYC Urban Sketchers met at the Metropolitan Museum of Art and I saw, and sketched, in the Vigee LeBrun exhibit which closes on May 15th.
"Elisabeth Louise Vigée Le Brun (French, 1755–1842) is one of the finest 18th-century French painters and among the most important of all women artists. An autodidact with exceptional skills as a portraitist, she achieved success in France and Europe during one of the most eventful, turbulent periods in European history." She is known as the painter to Marie Antoinette.
http://metmuseum.org/exhibitions/listings/2016/vigee-le-brun
I sketched a sculpture of her by Augustine Pajou, viewers in front of one of her paintings, and a Self Portrait before the group met for lunch. I was most struck by the fact that most of the women in her paintings had her face! The Met has most of her portraits at the link listed above.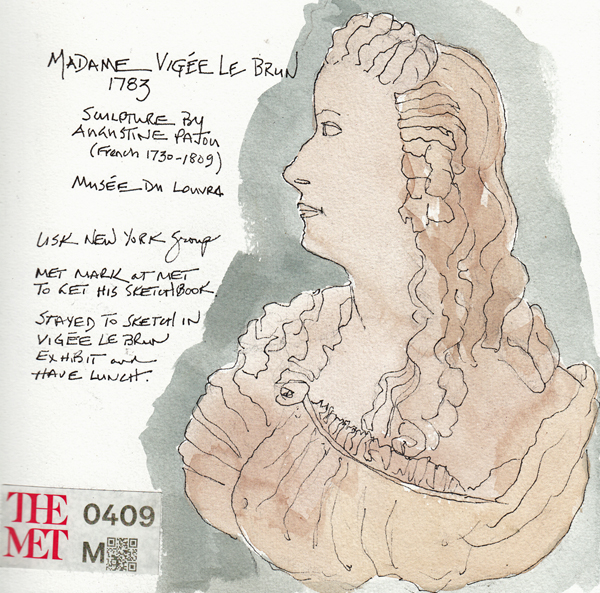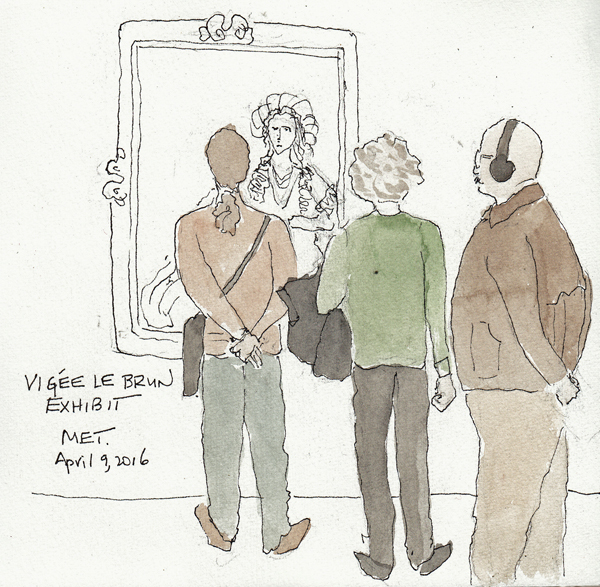 I went with my artist friends to see the Andy Warhol exhibit at the Morgan Museum and Library, which also closes on May 15th. I don't care if I ever see any more of his silk screen art, but I love his work as an illustrator - especially his blotted line drawings which I wrote about during his exhibit last summer at MoMA.
"Andy Warhol's fascination with publishing and the art of the book was lifelong—rooted in his artistic training as a college student and early career in advertising, fashion, and commercial illustration. For close to forty years, books were a touchstone for Warhol—a medium to which he returned again and again as a platform for his unparalleled creativity. He contributed to more than eighty projects for books and left traces behind of dozens of others that were never realized."
http://www.themorgan.org/exhibitions/warhol
I sketched one of his illustrations, but I'm also posting my illegal photo of my very, very favorite painting. It was an illustration from a Katherine Ann Porter book called Old Mortality. Many of his drawings/illustrations are best seen on a Pinterest Board.
https://www.pinterest.com/cihastings/art-andy-warhol/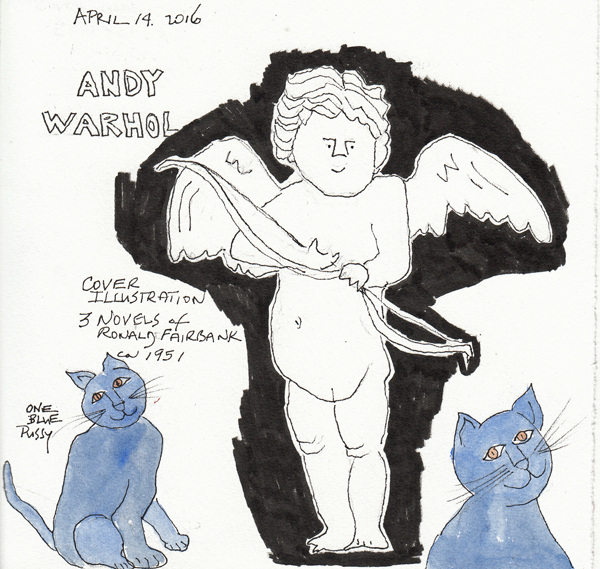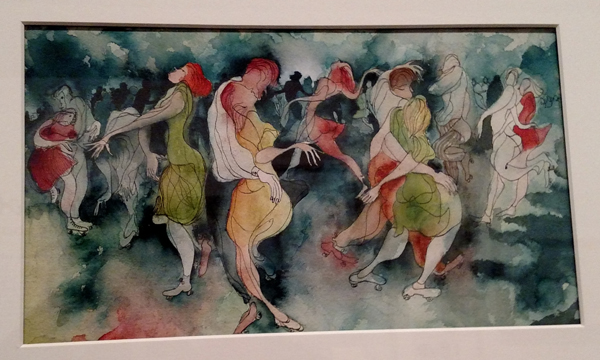 This ink and watercolor painting is called Figures Roller Skating (1946-47). The lines are so amazing and the colors so rich. I haven't found an image of it yet online.