New Museum Exhibit Openings
An Alexei Jawlensky exhibit just opened at Neue Gallery and Pat, Benedicte and I began our Art Exhibits day there. I was only familiar with one of his portraits before seeing the exhibit, and really liked most of them. I was less impressed with his landscapes and didn't like most of his abstract art. This is a photo from the stairwell at the museum, since photos are not permitted.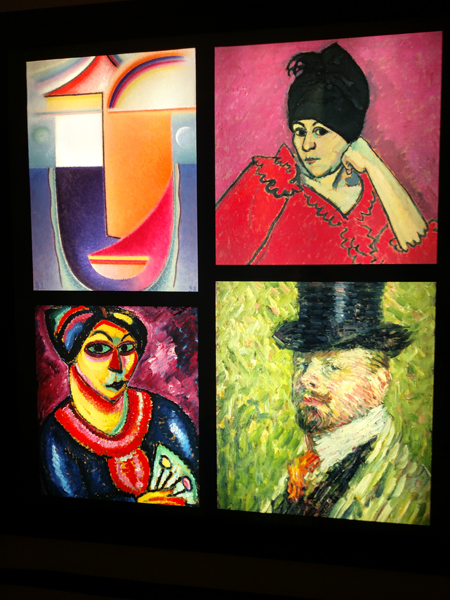 I really liked the portrait of The Gardener and sketched him, adding paint from an online image when I reached home.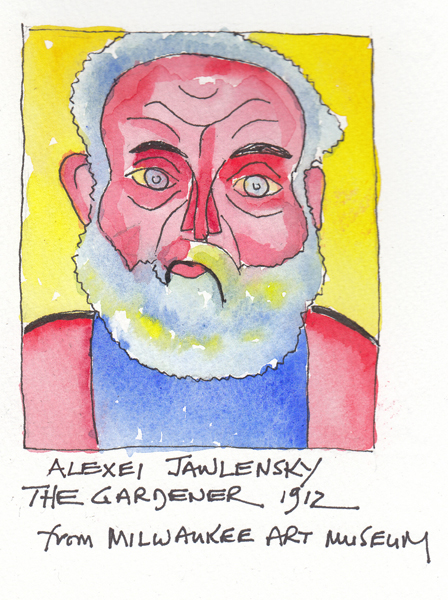 After lunch we walked several blocks to the Met for the Seurat Circus Sideshow exhibit. It was also a good exhibit, featuring many of Seurats' conte drawings (which I first saw at MoMA several years ago and love more than his paintings) and several of his circus pointillist paintings. But it also contains works from his contemporary artists and their circus art - including Daumier.
I definitely will return to the exhibit to sketch more, but at that hour of the afternoon I just sat in front of a HUGE mural painting by Fernand Pelez and sketched a great clown. There are 3 groups of life-size circus performers across this very large painting and the clown captured the feeling from this exhibit best for me.