Sotheby's Asian Modern and Contemporary Auction
This is Asia Week in New York City - when museums, galleries, and auction houses focus on Asian Art. Several years ago my friend Pat and I discovered the Asian Modern and Contemporary Auctiuon Preview at Sothebys and we look forward every year to visiting some of our now favorite artists. One of them is B. Prabha and her two paintings this year did not disappoint us. This was my watercolor copy of one of her oil paintings - drawn at the preview and painted at home.
B. Prabha Fisherwoman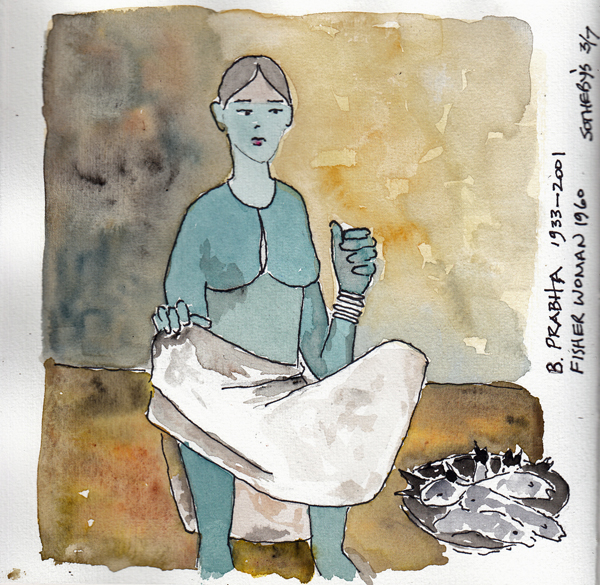 I also fell in love with "The Victims" by Kattingeri Krishna Hebbar, and I wrestled with drawing it from the rectangular image onto the page in my square sketchbook. But I wanted the experience of putting this beautiful painting into my muscle memory, and tried to convert oil into watercolor when I had time at home.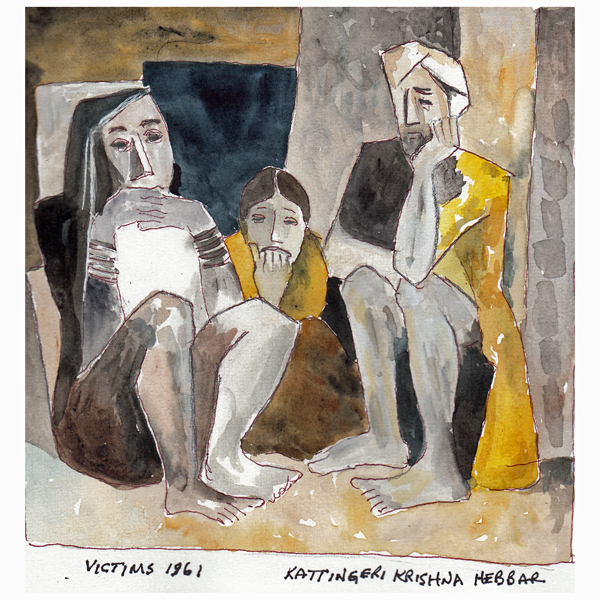 This is my photo of the original Hebbar painting. Hope you like it as much as we did. Pat, Benedicte, and I were sketching in different parts of the exhibit when a Sotheby's employee stopped to talk to me while I was sketching. I told her we came to see the auction preview each year and have favorite artists - Naguib Mahfouz, M.F. Husain, and B. Prabha among them. She said that they were artists who didn't become abstract expressionists, and remained true to their figurative paintings.