Protect Yourself Against the Omicron Variant BA.2
The Omicron variant BA.2 has taken over BA.1 in the US. It is surging in Europe, with many countries having a second wave. I follow a newsletter by Dr. Katelyn Jetelina MPH PhD- an epidemiologist, biostatistician, professor, and researcher, and thought I'd cover some items from her newsletter (Apr. 1), to help people make a decision re: vaccination and boosting.
1. UK hospital admissions of the 65+ group have passed their January peaks (BA.1). They have the lowest prevalence of infection, and the highest rate of vaccination, yet Covid accounts for about half of their hospitalizations. Is this due to a behavior change as restrictions were lifted? Or are they getting caught up in the high community transmission?
2. US: The prevalence of the BA.2 variant is now over 70%, and if the rapid rise continues, about 40,000 new cases/day will be seen by mid-April.
3. National testing shows that the rates of positive tests (PCR and antigen tests) are starting to increase. The infections have stalled at about 27,000 cases per day but peaked at approximately 800,000 cases per day during the first Omicron peak. Last week only NY showed an increase and now 15 states have daily increases - mostly in the Northeast. The case rate is being driven by the younger age groups.
4. This past week the US had the lowest number of hospitalizations since the pandemic started.
5. Right now an average of 700 people are dying every day. The majority are still in the unvaccinated population.
See Below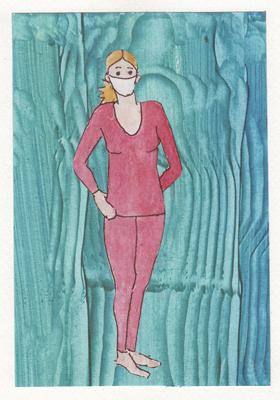 While we wait to see what this Omicron variant will do in the next few weeks, get vaccinated. If you are vaccinated, get the first booster - booster #1 and VACCINE dose #3. The fully vaccinated and boosted group did much better than the fully vaccinated group during the Omicron BA.1 surge. And now, if you are over 65 and had the first booster 5 or 6 months ago, consider getting the 2nd booster dose now. The vaccine is very safe and there is no downside. Older patients had a good antibody response to the 2nd booster, (4th shot) in Israel. I was planning to wait until I watched the FDA Scientific Meeting "on boosters" April 6th, but watching the spread of the BA.2 variant and seeing the case numbers in NY reaching 3% already, I decided to get it now. I had it Friday at our neighborhood CVS store and my husband (also a retired physician) will get his on Sunday.