Roll Up Your Sleeve!
My healthy volunteer is enrolled in a vaccine trial which has 3 separate Clinical Phases before FDA approval.
Phase 1 usually has less than 50 healthy volunteers, in the age range of the proposed treatment group. This phase is to test for SAFETY of the vaccine. Several concentrations of the vaccine will be tested to determine the best dose(s) for Clinical Phase 2. Antibody production after the vaccine may be assessed in a subgroup. Subjects may be given 1 or 2 injections one month apart. Adverse effects are recorded and subjects followed for several months or a year. Read Phase 2 and 3 below.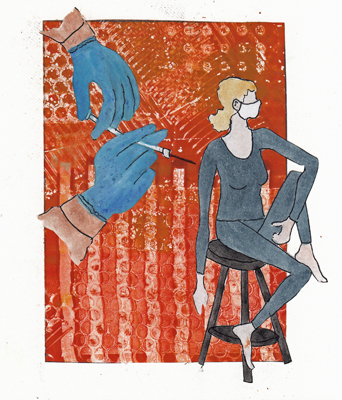 Phase 2 has many more healthy volunteers - usually in the hundreds. Several concentrations of the vaccine may still be tested and 2 injections may be given 1 month apart. The main goal of this phase is still assessing SAFETY, but some subjects will also be tested for the development of antibodies. Subjects are usually randomized between treatment and placebo groups.
Phase 3 has thousands or tens of thousands of healthy volunteers randomized between the vaccine and placebo. It may also be "double-blind" so neither the treated subjects nor the placebo group know what injection they received. In this phase EFFICACY of the vaccine is assessed - usually by measuring antibody titers, the presence of neutralizing antibodies that prevent virus multiplication, and cases of Covid-19 in the vaccinated vs placebo groups. Safety is still assessed. After the Phase 3 trial is analyzed, the data can be presented to the FDA for vaccine approval. The FDA won't approve a vaccine unless it protects at least 50% of the treated group and would love to see even higher efficacy.
Only a few of the 150+ vaccines being developed will be in Phase 3 this Summer and Fall - and the leading vaccine trials will enroll at least 30,000 healthy volunteers randomized between vaccine and placebo. The study sites selected must still have enough coronavirus virus transmission so the effectiveness of the vaccine can be measured. That shouldn't be a problem in the South or West in the US.