Some Statistics Comparing Covid and Influenza Infections
CNN Health had a nice summary of the data for Covid vs Influenza infections (4/20/22). These are numbers that I can't remember and thought I would pass them on here. It is often said that these two respiratory viral infections are similar, but they aren't. There are more than 35,000 daily Covid cases in the US (Johns Hopkins data) and they are currently increasing, especially in the Northeast. It is still too early to tell if the Omicron BA.2 variant and subvariants will spike, surge, and spread to other parts of the country. Covid vaccinated people are 5 times less likely to be hospitalized and 10 times less like to die. The number is even lower in boosted people. But these Covid numbers are much worse than the worst flu seasons.
The 2017-8 flu season was one of the worst in decades, and 710,000 people were hospitalized and 52,000 died. The number of Covid deaths is at one of its lowest points right now (400 deaths/day), and Covid killed as many people in the Omicron surge in 2 months than influenza killed in the year. Covid hospitalizations are relatively low right now, but. these numbers are 3 times higher than the latest number of hospitalizations for flu. It is impossible to predict what is going to happen next, it will depend on whether or not there are more variants The CDC is still recommending masks on airlines and announcing that people still need to be vigilant. See Below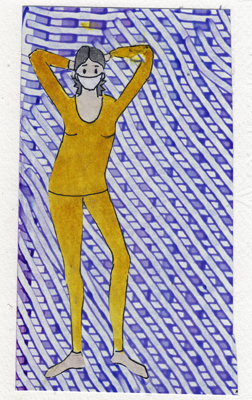 We are going away next week for a short Springtime Vacation (not flying) and although I will be following the news, I won't be able to take my art supplies with me - not to mention a scanner. There are very preliminary reports from Moderna that bivalent vaccine shots (the original + beta) lead to very high neutralizing antibody titers EVEN AGAINST Omicron. This is exciting and by the time I return there may be more information about vaccine for children <5, and more information about Moderna's new clinical trial to compare other bivalent Covid vaccines. It would be wonderful if the next booster had broader coverage for the variants.