White Tailed Deer are a SARS-CoV-2 Reservoir
There is accumulating evidence that wild white tailed deer can be infected with SARS-CoV-2 and are now spreading the virus among deer herds in the US. Minks, dogs, cats, and various zoo animals have been infected, but most of these infections are due to human interactions during feeding and care. It is assumed that the infection in deer had to come from contact with humans, or maybe waste water. The deer do not appear to develop symptoms or to infect humans, although this might be difficult to prove. The deer have ACE-2 receptors on their cells, like humans, to which the virus binds to gain entry into nasopharyngeal cells. 624 blood samples, from pre and post pandemic were studied and Sars-CoV-2 antibodies were found in 152 of the 2021 samples - from Illinois, Michigan, New York, and Pennsylvania. Three samples from early 2020 were also positive. How did the deer become infected?
More Data: (1) There are reports of the virus in 363 nasal swabs from free range white tailed deer in Ohio, pre-delta variant, and genomic sequencing demonstrated that these viruses were the same as those circulating in our human population. (2) In Iowa lymph node samples were taken from the nasopharynx in approximately 300 deer to look for virus in the tissue and 1/3rd of the samples tested positive by PCR. (3) Also in Iowa, 97 deer samples (11/23-1/10/2022) were collected and 80% of them were positive for Covid during hunting season. They sequenced the viruses and the same genomes were present in the white tailed deer and current infections in humans. See Below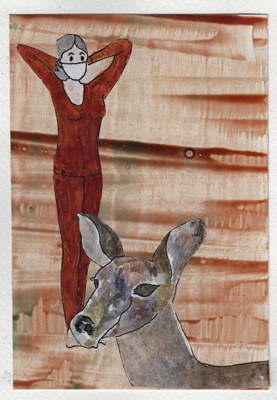 There are 30 million white tailed deer in the US and 6 million are supposedly killed by hunters each year. The new data demonstrate that the SARS-CoV-2 virus is widely present in deer clusters - constituting a reservoir of the virus. As the virus replicates in the reservoir there are many opportunities for the virus to mutate and at some point they may be able to jump back into the human population. The mutations can increase transmissibility, increase the virus virulence, or block the effect of vaccine on the mutated virus. Deer are currently monitored for chronic wasting disease and bovine tuberculosis - and now SARS-CoV-2 virus will be followed as well. Hunters are encouraged to do field dressing outside, wearing gloves. The deer organs should be disposed of carefully and the meat cooked very carefully.