"Children Are at Low Risk, BUT Not at No Risk"
This is a quote from Dr. Daniel Griffin who says the above on his Podcast every week. My Grandchildren are going back to school. Six of them are vaccinated, but two of them are under twelve and will be unvaccinated. Therefore only classroom mitigation strategies will protect them in school. There is a mask mandate in NYC schools, but social distancing at 6 feet will be impossible. And how many schools really have cross ventilation or hepa filters in the classroom? Most important, how many faculty and staff are vaccinated? There is a new publication that is worth reading in which an unvaccinated teacher was the source of a delta Covid cluster in Marin County CA. She only removed her mask to read to the students. Read below to see the results of very careful studies that were done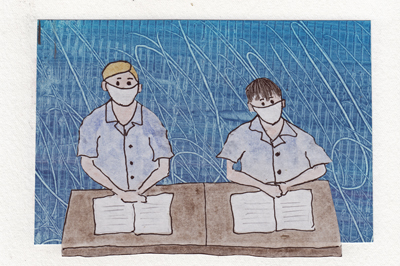 The unvaccinated teacher became symptomatic on May 19th, but thought it was allergies. She continued to work for 2 days and then had a Covid test on May 21st - which was positive. On occasion during this time the teacher sometimes read to students without her mask and she was one of 2 teachers in the school who were not vaccinated. There were 12 Covid infections in her students that were confirmed in the class within 5-7 days. Eight of the 10 students who sat in the first two rows and 4 of 14 students in the last 3 rows developed Covid. There were also secondary infections of siblings and parents of the original students for a final total of 27 Covid cases. Eighty-one % were symptomatic. These students all wore masks throughout the day and their desks were 6 feet apart. Each classroom also had high-efficiency particulate air filters and doors and windows were left open. Genomic sequencing of 18 of these cases were positive for the delta variant. Unfortunately the teachers sample could not be retrieved. I hope that school systems will do everything they can to protect the unvaccinated students as schools open all over the country - vaccination mandates and mask mandates as a minimum.