SCARED
New York City is "reopening" on June 8th. This was excellent news! Our "stay at home" shut down on March 22nd was associated with a big surge in Covid-19 cases, a peak, and then a slow decrease to meet the strict guidelines for our reopening. Now added to the fear of many new cases in the Phase 1 reopening, there are peaceful protest marches for social justice of 1000s of people every day, with a separate group that is believed to arrive after dark in order to loot high end stores. An 8PM curfew was set for the rest of this week, and looters are being arrested.
Governor Cuomo was amazing during these months, and like lots of people across the US, we watched his daily briefing every day. He used science and data to accomplish so much. Now we are hoping that we won't have a separate peak of Coronavirus infections after so many mass gatherings. Only 2% of virus tests are currently positive in NY- with 40,000 tests per day. The low level of community infection, wearing masks, and marching outside may reduce the chance of a second wave after the protests. In our age range, the fatality rate in NY is calculated at 44% and the chances of getting off a respirator is <20%. Those statistics make me scared to reenter the world - even with a mask and gloves, and social distancing for a brisk daily walk in our neighborhood. Looking forward to June 8th, with anxiety!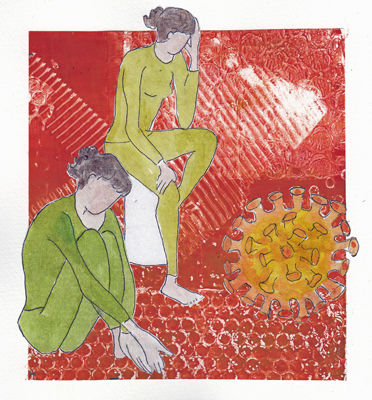 The figures were drawn on a quarter sheet of copy paper, painted with watercolor paints, and collaged onto a background sheet made on a Gelli Arts plate.