Spread of Coronavirus
I was a college and medical student during the civil rights era and spent my medical career working with patients from underserved communities. If I believed that I could protect myself and my husband from the coronavirus I would be out there protesting and marching with everyone. I listened to Mario Cuomo's 1984 Democratic Convention speech several days ago (The Tale of Two Cities-You Tube) and it is frightening how little progress has been made since then.
To the protesters: Wear your masks - even though cloth masks are primarily protecting you against other people. Social distance (>6 feet) as much as possible - this is critical. Wash your hands or sanitize them frequently. And don't touch your mask, face, nose, or eyes. See link below the image for good mask information.
Since police don't seem to be wearing masks - avoid them as much as possible - 6 feet or more!! My masked person today is faced with 3 different size coronaviruses. Large droplets from coughing or sneezing will drop to surfaces. Medium size coronaviruses will eventually drop, but it may take longer. The small coronaviruses can be exhaled or released during normal speech and increase in number when using a loud voice. There are scientific studies that demonstrate this using aerosolized particles. Stay healthy.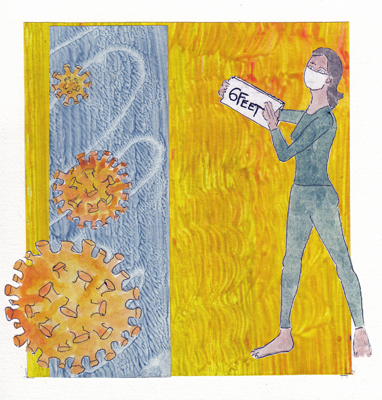 Face Mask for Coronavirus: Types, Best Filters, How to Make.