Outrunning the Virus
"Stay at Home NYC" may end soon. Some regions of NY State are ready to move into Phase 2 of Reopening, some just started Phase 1, and if the COVID-19 Statistics remain on course we will enter Phase 1 on Monday June 8. I have never been so happy that we live in a state where the Governor believes in scientific evidence and data determines our path. Since New York City was the epicenter for the virus, and it spread from Europe (based on recent elegant genetic studies), we had community acquired infections before the first case was documented on March 1st. Most came through the 3 airports - LaGuardia, JFK, and Newark. Antibody tests show that we still have active transmission, but test, track, isolate- the golden rule for mitigation of epidemics - may slow down spread within the City even further. But now I'm worried about spread from the parts of the country where science means nothing!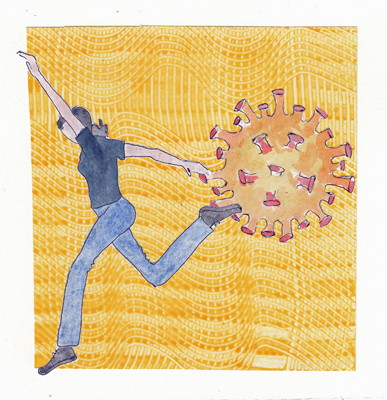 This is the 7th sketchbook page of my COVID-19 Drawings. My figures are adapted from two photo books I listed several blog posts ago. I draw on a quarter piece of scrap copy paper and use ink and watercolors to complete the drawings. Each painting is then cut out and collaged onto a sketchbook page - frequently with a background of paste paper I made.