Weekly Tracker for Covid-19 Therapy
It is almost impossible to keep up with the number of vaccines, antiviral drugs, and treatments for Covid-19. And it makes it more difficult because many haven't entered clinical trials. Every vaccine and drug need to go through 3 clinical trials in the US in order to apply for FDA approval. As someone in the most vulnerable age group for Covid-19, I started following vaccine development and as of Monday 11 vaccines have entered Phase 2 Trials and 2 have a Phase 3 Trial beginning now. To give you pause, it is important to understand that these phase 3 trials will study a minimum of 30,000 volunteers (more below).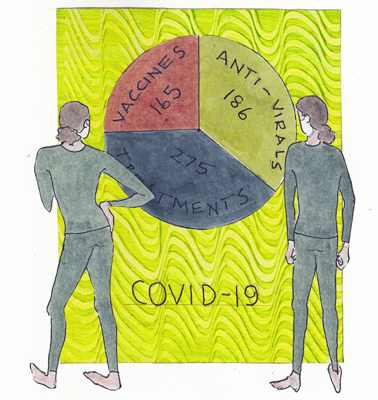 Since I'm preparing a virtual seminar for later this month, I follow every article I can find on vaccine development and many of them are press releases, especially written for the business sites. My main goal for my seminar is to review the clinical trial process, and the difference between news articles, pre-prints and full scientific articles. I selected one vaccine (being developed by Moderna with NIH-NIAID), one repurposed drug (dexamethasone), and one new drug (a monoclonal antibody for treatment of Covid-19) as examples of the US testing process.
The pie-chart is from Bio, one of many Covid-19 trackers - and the numbers are from June 6th.
I think anyone who is concerned about their health, and will need to make decisions about a vaccine, or drug treatments, should understand the testing and approval process. Last week there was yet one more report on hydroxychloroquine that appeared in newspapers and in news reports online and on TV. This was a retrospective, chart review comparison of hydroxychloroquine and hospitalized patients who received usual care. This is almost the worst type of clinical report that can be done, and consumers should require data from prospective, randomized clinical trials before information is ever published, even in a news flash.