Beginning of a New Year
I am celebrating my 20th weekly ballet class after my return to my favorite form of exercise. I always loved dance - of all kinds - and took ballet classes once or twice a week during many years of my adult life. But I "lapsed" when I retired and during the summer decided that I had to return - at least for the entire barre part of the class.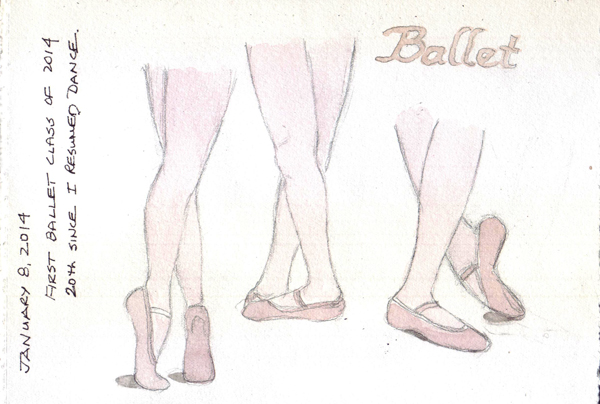 My friend Teri, a mixed-media artist, told me about two online Art Journal groups she joined for 2014. I looked carefully at both of them and decided on a "Documented Life" project.
https://arttothe5th.squarespace.com/
I love memoirs and have many ways that I document my life and those in my family - including all of my ancestors back for several hundred years.
Each week there is a prompt posted, and members create a journal page in a modified Moleskine Weekly Planner. I love the idea of a weekly prompt, and for years did the weekly Everyday Matters challenge. But I wanted to draw/paint in ink with watercolor on my favorite watercolor paper. I tore a sheet of Fabriano Artistica 140 lb extra-white Soft Press paper into folios, made signatures with two folios per signature (i.e. 8 pages), and started the prompts on the first signature. I have the pages in the signature numbered so I can bind the book, in order, at the end of the year.
Week 1: Front Door
I live in a New York City apartment building and sketched and painted the small hall off the elevator and my front door.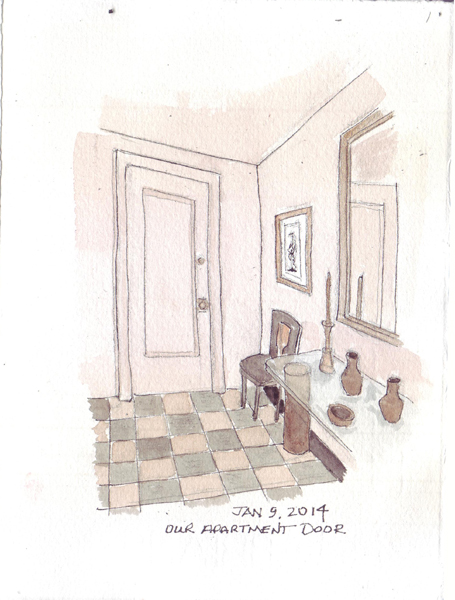 Week 2: A Selfie
I debated about drawing a self-portrait, but recently did that for my FIT Figure Drawing class. So instead I sketched and painted "The Selfie of My Dreams."