A Belated Happy Thanksgiving
We catered Thanksgiving for 19 adults and 9 children (ages 2-14). We cooked at our apartment on Tuesday, took 3 boxes and 3 bags of stuff to my daughters apartment on Wednesday morning, where I made potato leek soup with Henry (our 14 year old food loving grandson) and my husband prepared a 25 lb fresh turkey while our 8 year old grandson Zach from around the corner watched. When we finished cooking, and were waiting for the soup to cool enough for the fridge, Zach and I "did art."
We copied a cartoon turkey drawing from "Art Projects for Kids." Zach took his home, but here is mine, entitled Ghosts from Holidays Past."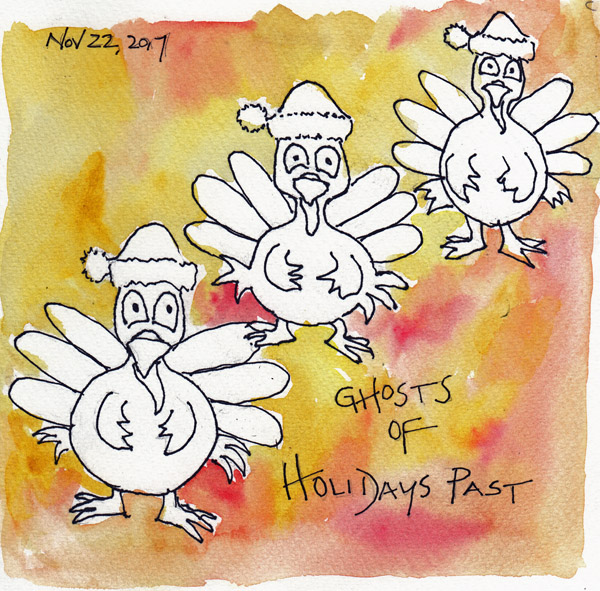 Zach told me he wanted to draw with me, and described the method for "Exquisite Corpses." I had to email Pat because he didn't know the name and I couldn't remember it. We divided a piece of copy paper in fourths, and hid our drawings from each other as we moved down section by section. We did 6-8 different ones, and saved this one as a friend for my imaginary character Axel. He drew the head, and marked the neck lines at the top of my section. I then drew the neck and chest and marked the waistline at the top of his section. He drew hips and legs to the knees, and marked the leg lines, and then I drew calves and feet. Only then did we have a big REVEAL!
The Surrealists popularized Exquisite Corpse drawings as a parlor game. We did it at MoMA one time when they were providing the paper and posting the results in the main lobby and online.