Museum Visit to See Vermeer and Chagall
I am having trouble coordinating my schedule due to a big Thanksgiving celebration and my Santa Workshop activities as I prepare for Christmas. I looked back in my sketchbook and discovered I missed these when I visited the two exhibits with my friends in late October.
Readers of this blog know that I like to copy paintings by the Masters - always hopeful that I will learn something from their styles and compositions.
The Frick Collection exhibit has 15 paintings from the Mauritshuis Museum in the Netherlands, including those by Vermeer and Rembrandt. The highlight is Vermeer's Girl with the Pearl Earring and it is hung alone in a lovely gallery. The Frick displayed their 3 Vermeers and 3 Rembrandts in an adjoining gallery, so it was a real treat.
http://www.frick.org//exhibitions/mauritshuis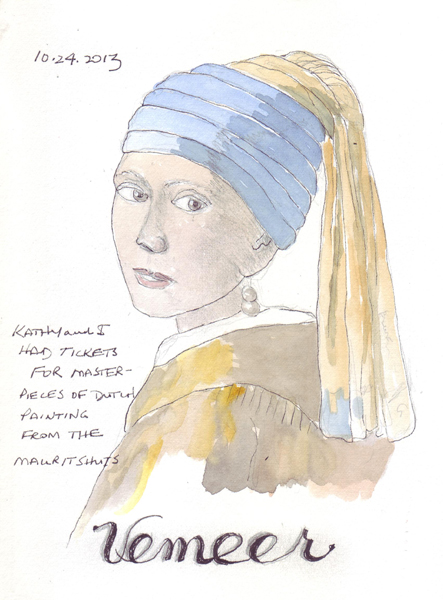 There is an amazing Chagall exhibit at the Jewish Museum. It is titled "Love, War, and Exile" and includes paintings from late in his life.
http://www.thejewishmuseum.org/exhibitions/chagall-love-war-exile
I loved the shape of this figure and the composition from the moment I saw it and needed to circle back to draw it at the end.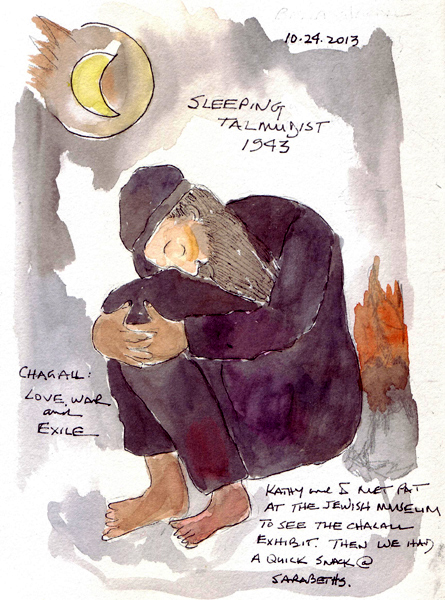 Monday is my last Figure Drawing class at FIT - and hopefully I will then have more motivation to find non-figure subjects for drawing and painting.