Watercolor Class Questions - Help!
Last week I painted on a Chinese White watercolor underpainting on Bainbridge Hot Press Illustration Board.
This is my portrait of our model, a dark-haired and stubbly face guy in a motorcycle jacket. I painted the illustration board with Chinese White mixed with water, did a very light simple sketch, and then did all of the painting with a #10 round brush on the underpainting, even the lines of the eyes and nose.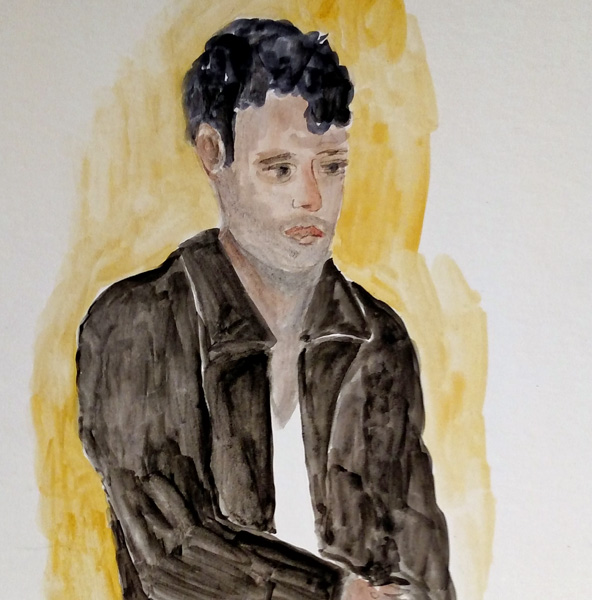 I missed the class demo when I was away, and never understood why we were learning this technique.
I searched for information about Chinese White Watercolor paint and didn't find much.
I learned that Chinese White, a zinc oxide, was first used in watercolor painting in the 1830s. Although the white of the paper is usually used for white color in watercolor painting, Chinese White can be used to add opaque white details, or to mix with transparent watercolors to make them opaque like gouache.
This is all I found about using Chinese White as an underpainting:
"Lifting after using Chinese white as a base: Using Chinese white as a base makes it easier to lift and manipulate applied color to create hazy, misty effects, and soft-edged, subtly blended areas of tone. This technique is also known as blottesque. In blottesque, you apply a thin layer of Chinese white to your paper, let it dry and then paint over it with layers of transparent watercolor in the usual way. At any stage, you can lift, scrub or rub off color to achieve the effect you want. You can use the technique all over your painting, but if you do not want Chinese white to mix the transparent color, confine it to a few appropriate areas, such as the sky, to create naturalistic cloud effects. The blottesque technique is ideal for lifting color where you want subtle gradations of tone. It gives more control than basic lifting techniques because both the white of the paper and the white pigment contribute to the lightening of tones. When you lift color laid on a base of Chinese white, the edges are soft and merge into neighboring washes. Exploit these effects for naturalistic skies, and hazy, moisture-drenched weather effects."
I'd love to hear from watercolor painters out there who can help me understand this technique.
https://mail.google.com/mail/u/0/?shva=1#drafts?compose=150f34fe5d5467b4