Rice Mice for Callum and Annabelle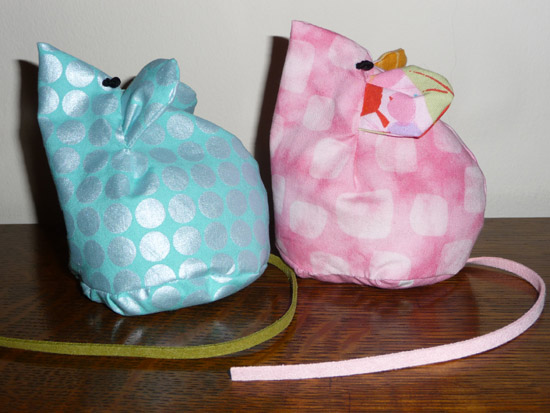 My son called today to tell me that Annabelle (now almost 1) discivered her Rouse Mouse (singular of Rice Mice) this week and now needs it taken from the shelf and given to her everytime she is lifted out of her crib. He went searching for more information on the origin of these mice and asked why I didn't have any photos of the two newest ones on my blog. Just coincidentally, we're having dinner tonight with the person who gave me the Rice Mice book when my children were young.
Both of these mice have long suede tails and embroidered eyes for safety. Annabelle's pink mouse was made from fabric used for the quilt I made for her for Christmas. Callum's mouse is made from fabric leftover from an earlier quilting project and the turquoise and apple green color matches his room.
My earlier post about Christmas Rice Mice and a picture of the book appears here.