Quilt Journal Page #6
I'm off to The International Quilt Festival in Houston, but wanted to post my last quilt journal page before departing. They were photographed quickly as they hang on my apartment-sized design wall - a little crooked.
This page was created with the thermafax screens that I made last month and thickened procion MX dyes. I loved the technique! The image of the models was a green dye print and then I free-motion stitched it in black. All of the other stuff in the background was printed from other screens.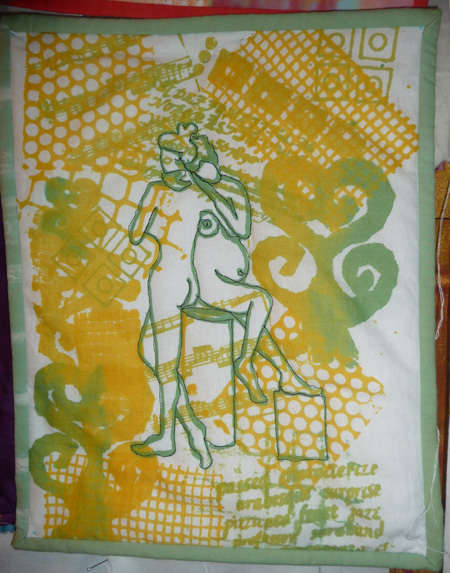 Here are the first 6 all hanging together. I will definitely go back to do a little more quilting, but I'm trying to keep the creative momentum going. I have at least 4 more ways that I want to try to transfer images of the model to fabric.
I have a blog post comparing Pentel Pocket Brush Pen and watercolor washes in the Strathmore Visual Journals that will be automatically uploaded while I'm gone. I didn't think my husband would step-in to post it! But I won't be able to moderate comments until I return on Sunday.