Fashion at the Met and Warhol at MoMA
Every May, the fashion world of NYC comes together for the Costume Institute Met gala. This year the exhibit is China: Through the Looking Glass. It is the most extravagant fashion exhibit I've seen there, in part because the exhibit is both in the Costume Institute galleries, and throughout the Asian Galleries. It took us 2 hours to go through the galleries (even without reading many labels!). And I did just a few sketches to remember the event.
This is a wonderful Met video of the exhibit.
http://www.metmuseum.org/exhibitions/listings/2015/china-through-the-looking-glass/video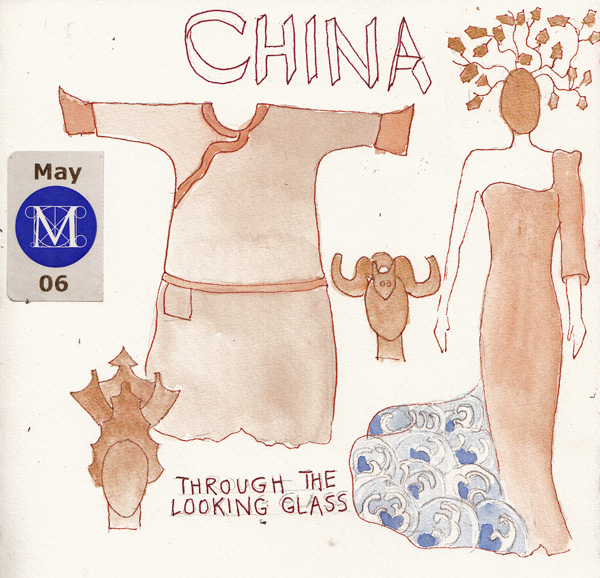 Pat, Benedicte, and I also went to MoMA to see the new Warhol exhibit, and to attend the first of many sessions about Warhol's Materials and Methods -something they are calling Warhol's Pop-Up events. A museum art educator discussed Warhol's career and led us through 2 exercises. In the first, we used one of his iconic shapes and created a new product/brand/logo. I created a shopping bag, with an extravagant hat on it, for my store called "To the Races." I imagined a shop for hats to be worn to the Kentucky Derby and Ascot.
For the 2nd exercise, we were given stacks of ads from the 1950s-1960s (I think) and a light box, and asked to trace images from these ads to create a new ad. I just collected women's faces and made it an ad for Lifesavers - a hint at the rise of feminism during that time.
Warhol is not an artist I admire. I keep looking for evidence that he did more than transform work by others. But it is always fun to work with the MoMA educators and I probably will sample one session from each of the 4 who will be leading these sessions in the next few months to see how they differ.