Battery Park City - Figure al Fresco
There is a free, outdoor Figure Drawing session in Battery Park City at the tip of Manhattan every Wednesday afternoon from May through October. Yesterday was the first session, and many of the artists, and the model, were old friends.
The model is Donna - an incredible, colorfully dressed, experienced model. I prefer the younger models who are dressed in tank tops and leggings so I can draw their full posture, but yesterday Donna was dressed in so many layers and colors that I had to pull out my watercolors for the longer poses.
This is the 5 minute sketch - in graphite.

There were also two 10 minute sketches and one 30 minute sketch, which I did in graphite and then added paint. But I missed the lines after painting, and brought them home and added India ink lines with my flexible nib over the watercolor. Over and over I find that line is the most important element for me in art. I prefer drawings to paintings, and ink and watercolor to any other paint medium. And among oil paintings, I gravitate to the paintings with definite black lines in the paintings, like Matisse and Beckmann to name a few of my favorite artists.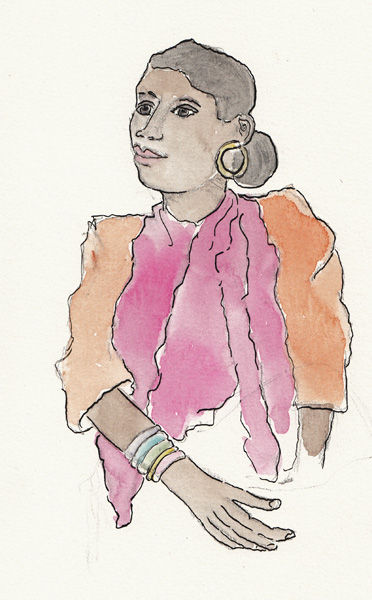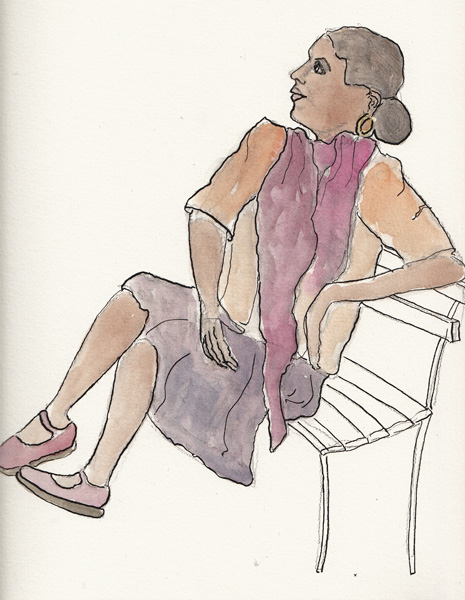 For this 30 minute pose Donna added yet one more scarf, a deeper auburn color over her bright pink one. Her dress was a multicolor print and I simplified it to only capture the colors.