Wonderful Art Inspiration
This is a terrific week in New York City to tour exhibits and galleries for inspiration. After I registered for my Spring Semester Class at FIT (Painting on Fabric), Pat, Benedicte and I went to the Morgan Library and Museum for 3 exhibits: Leonardo, Spanish Drawings, and St. Exupery's Little Prince. http://www.themorgan.org/exhibitions/
The DaVinci drawings were spectacular and it was a spiritual experience being in the same gallery with them. The Spanish drawings were also inspiring, especially those by Goya. And the newest exhibit, The Little Prince, was amazing.
St. Exupery fled France with his wife after the Nazi invasion and lived in New York City with an enormous amount of support from friends. He created The Little Prince while here, and after the publication of the book rejoined his squadron in Northern Africa where he died on a solo mission in his airplane. Right before he left, he gave a big bag of manuscript pages and original illustrations to a friend, who gave them to The Morgan, and these make up most of the exhibit. This illustration with the boabab tree was changed for the final - but I loved this iteration of the drawing best!!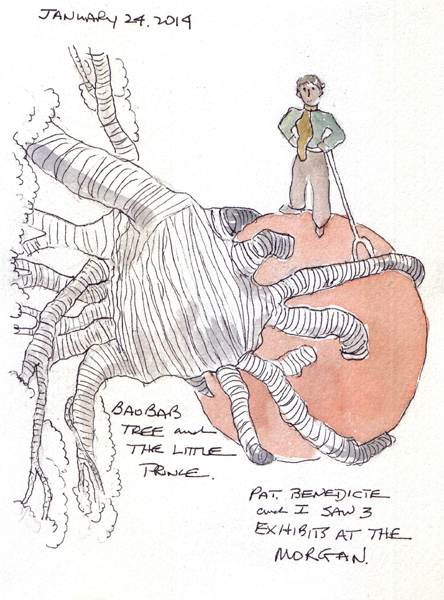 Master Drawings New York Week began last Friday and we scheduled two days to gallery hop on the Upper East Side of New York City. Yesterday Pat, Benedict, Judy, and I went to 13 galleries and throughly enjoyed drawings from the 16th C. through the present. One gallery had iPads mounted next to giclee prints by a Mexican Artist named Elena Climent - and the iPads scrolled through each of the layers she drew from the first scribbling through the final piece.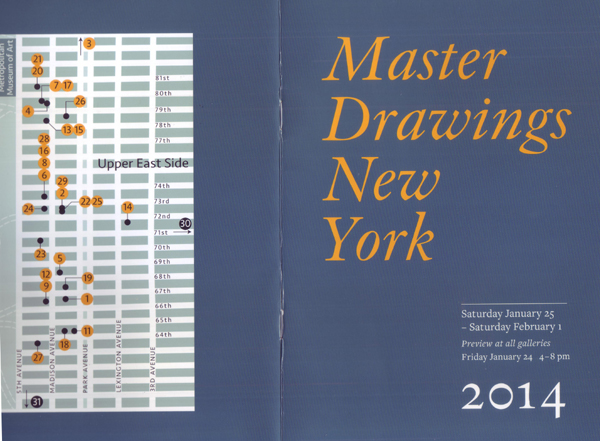 I love Delacroix's drawings and watercolors from Morocco, and was thrilled to see one drawing of 4 heads of a Moroccan Man. I took this photo and then drew one of the heads quickly to remember our day. And this morning I sketched another copy of it to make myself yet one more magnetic bookmark. For information about my magnetic bookmarkds see http://www.paperandthreads.com/2012/06/more_watercolor_magnetic_bookm_1.php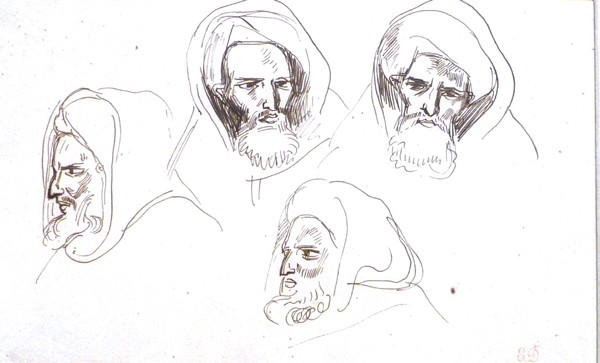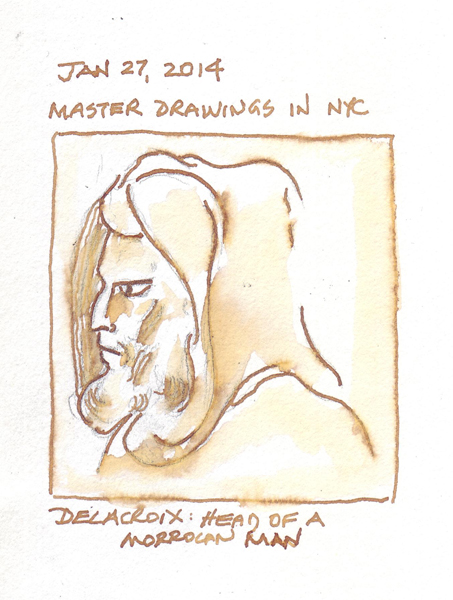 When exiting a gallery on E. 79th St. we saw a pile of architectural trash from a renovation. The textures on the back of granite pieces stopped my artist friends in their tracks. They took photos of the trash and I took one of them. From left to right: Benedicte, Pat, and Judy in Artic NYC.
Tomorrow we are going to visit the remaining 14 galleries - and hopefully find lots more inspiration.
This is Cezanne week with Artist Teresa Sheeley, so I am reviewing old notes and Cezanne paintings I did in the past and selecting a painting to copy now.