Studying Under the Masters - Antoni Gaudi
Week 2 of Studying Under the Masters:
Artist Junelle Jacobsen presented Antoni Gaudi this week, master architect of Barcelona, Spain. I never visited Barcelona, but was familiar with Sagrada Familia, his still unfinished Basilica, and some of his other whimsical, energetic, colorful building ornamentation. There were 15 videos presented (approx. 4 hours), and we learned about Gaudi as a person, as an architect and artist and then saw wonderful examples of his work, both in photos and video. Junelle then encouraged us to sketch from some of his architecture, paint some of his stained glass in watercolor, abstract his architecture in a painting, and use some of the characteristics of his art/architecture in our own composition. And we watched her do all of this. Junelle even translated a Gaudi mosaic in paper for her final art project of the week.
My Week:
It was great fun to do more research on Antoni Gaudi and watch numerous YouTube videos. I also looked at Pinterest Boards displaying many photos from Barcelona.
I sketched a sculpture I loved from a façade on Sagrada Familia and was disappointed to find out that the sculptor was Subirach and not Gaudi. I also sketched 6 towers from the roof of Casa Battllo - but didn't add the colors.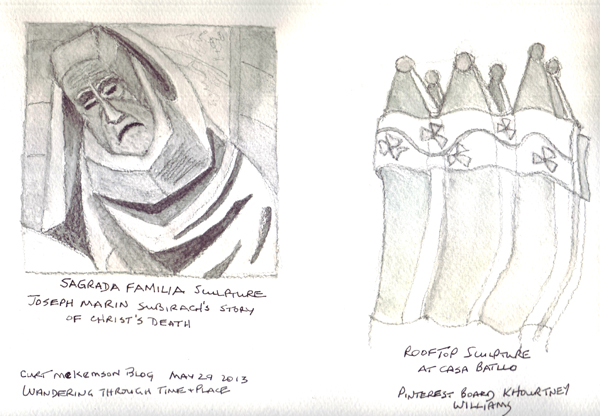 I painted one stained glass window complex from Sagrada Familia in watercolor.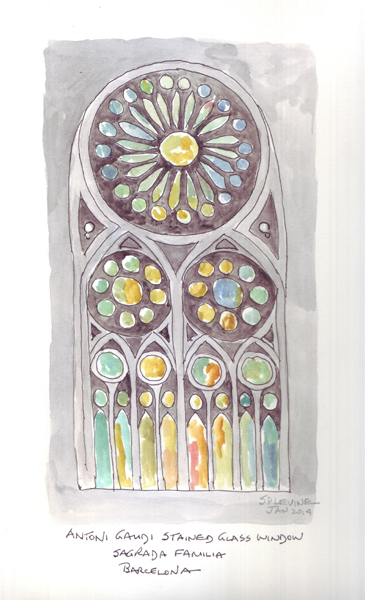 I painted the Nativity façade of the Sagrada Familia in watercolor, making it more abstract and looser than the actual building.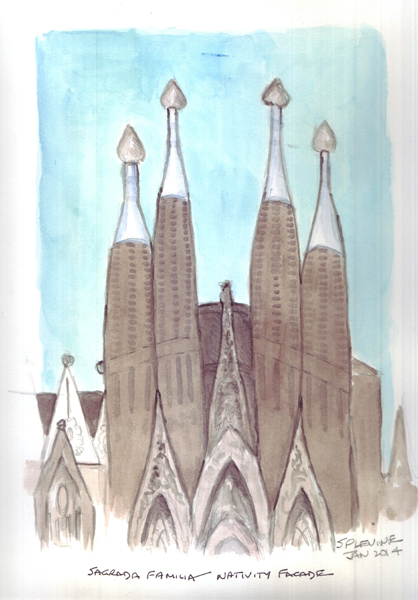 At the end of this week I couldn't think of anything I could paint and "use the style of" Gaudi's architecture. And then I thought of New York City water towers that exist on the top of all tall buildings in the City. What if they were all redesigned by Gaudi? What a whimsical colorful city we could have. I took a quick photo yesterday on 23rd St and this morning made it into a Gaudi Water Tower.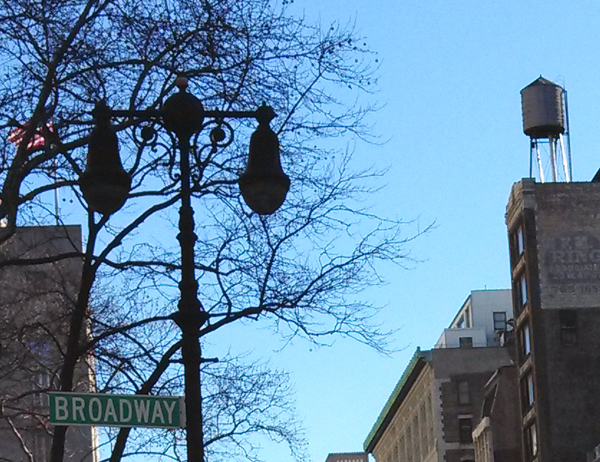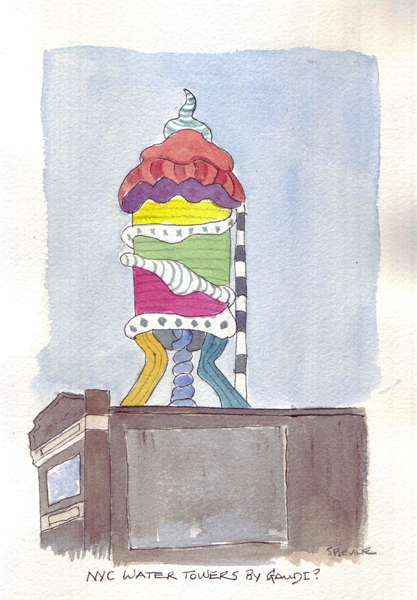 I am loving this 9 week class. Each artist is following the same basic structure and providing us with lots of information. We can feel their enthusiasm and watch them draw, paint, sculpt, collage etc on some of the videos. And then we can gather all of this together in our brains and create our own art.
Next Week: Cezanne with Teresa Sheeley.
Students may still enroll. Some of the students are planning to work on one artist per month because we have access to the class information and videos for 2 years.