Cezanne - Studying Under the Masters Week 3
This is Week 3 of Studying Under the Masters and artist Terea Sheeley selected Cezanne as her Master. I watched almost 4 hours of video that she prepared, including her copy of one of his masterpieces in acrylic, and her original still life composition done in watercolor, in the style of Cezanne.
It took me awhile to make my choice among Cezanne's paintings, but finally decided to copy "Ginger Jar with Fruit" which he did in oils, but I wanted to paint in watercolor. This is a painting from the Barnes Collection - and I must have seen it in the new Barnes Museum in Philadelphia last year - among the 69 Cezannes that he collected.
Here is the original oil painting: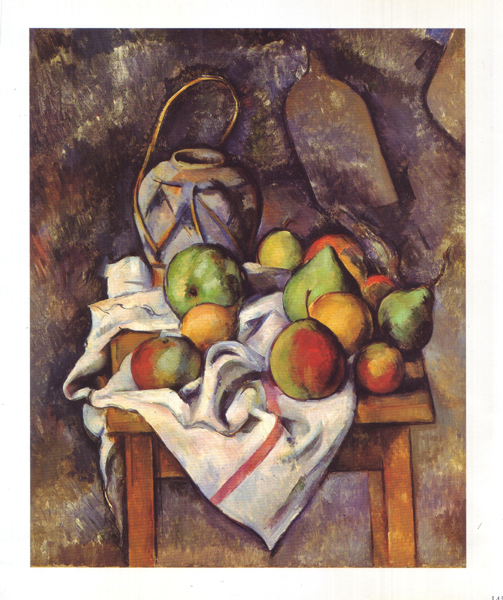 Here is my watercolor copy: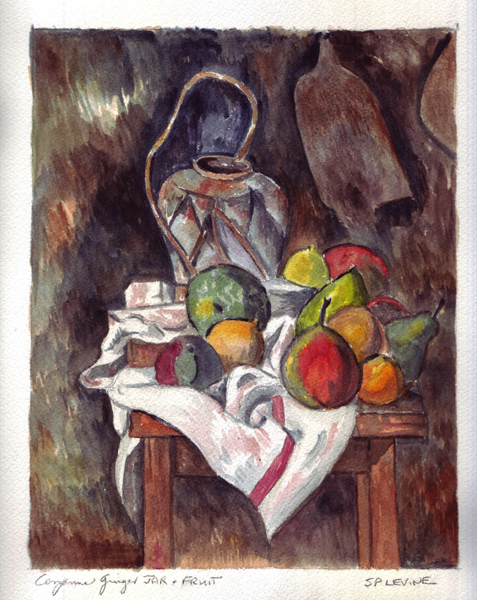 I finally had to stop "fiddling" because there are areas that still need some dark lines. I always remember that it is hardest to know when to stop and I decided this might be it.
While watching Teresa, I learned lots about the very short brushstrokes that Cezanne used, and this painting of his is a great example of that. It forced me to do many things - work big (a 6 X 9" painting on large sheets of Arches CP 140 lb paper), to use an underpainting also with short brushstrokes, to work with a drier brush, and to limit my palette. I used Yellow Ochre, Van Dyke Brown, Burnt Sienna, Payne's Gray, Neutral Tint, and Ivory Black for the background. I also used an occasional dab of my cool and warm primaries -yellows and reds and blues - for the fruit.
During Matisse week Jeanne Oliver decided that it was important to take many photos of work in progress, like Matisse. I took 6 - and here are 3 of my photos - taken with my Android phone while sitting on my comfy couch.
Work in Progress #2: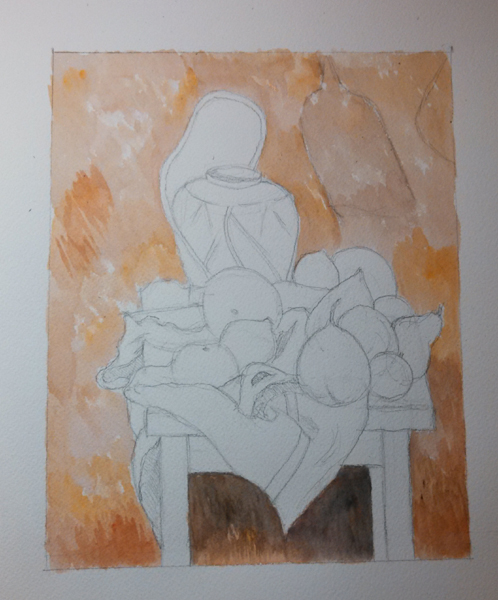 Work in Progress #3: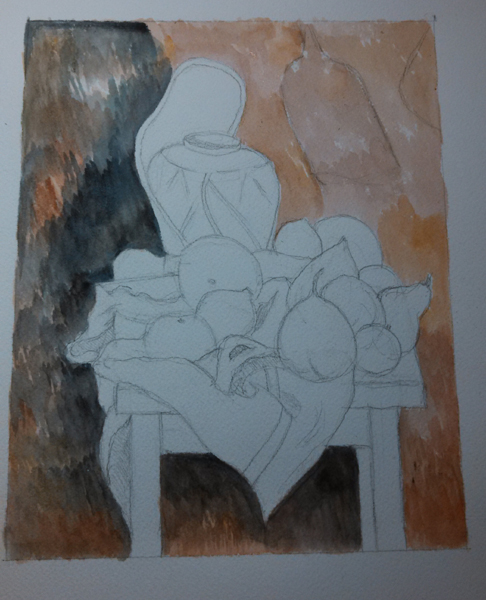 Work in Progress #6: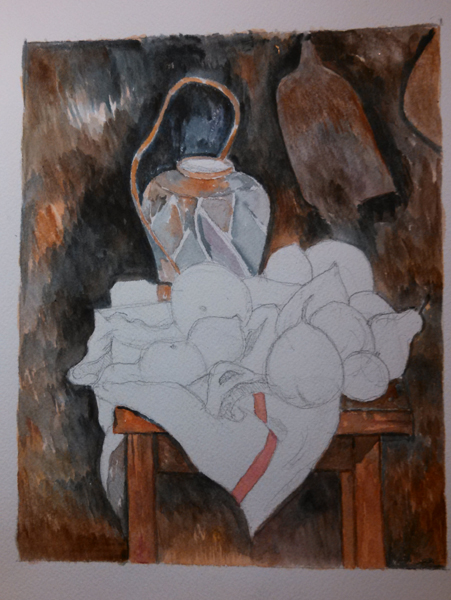 I now need to apply what I learned about Cezanne to my own composition and will try to finish that before Monday morning when the next artist is posted. Next Week is artist Jenny Wentworth studying under Sandro Botticelli.
There is still time to enroll in this class. It costs $62 for 9 weeks of instruction with 9 different artists, and the class will remain on line for 2 years. I'm choosing to do one artist per week, but many of my fellow classmates are planning on one artist per month. The only thing you will miss is participation in a live chat - but I missed all of them and just read the transcript.
You can learn more by going to Jeanne Oliver's website and clicking on Studying Under the Masters.