More Watercolor Magnetic Bookmarks
I save strips of watercolor paper when I am making watercolor sketchbooks. It was so much fun to sketch Klimt designs when I was in Venice, that I decided to make myself a new magnetic bookmark with gold gouache and gold pen. I love the metallic glitter, even though it can't be seen in a scan. If you have never used a magnetic bookmark, they are fabulous because after you fold them over a single page, they never move. I'm not an e-book reader, so these remain my favorite bookmarks.
The folded size is 5.5" by 2.5 "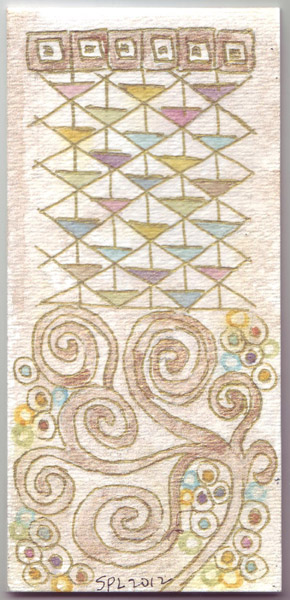 I use Staples adhesive magnets made for the back of business cards - and cut them in half horizontally. I then adhere each half to one side of the folded strip of paper - at the bottom of each side.

Here are 3 more bookmarks that I made from painted strips during the last year. The day lily is 5.5 x 2.5" and the other two slightly smaller.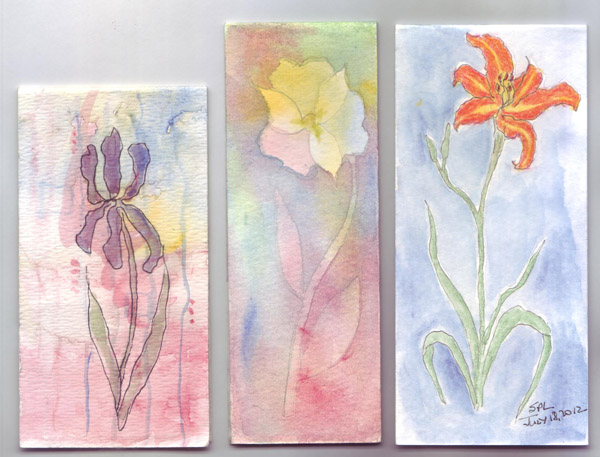 This is another bookmark that I made when I needed to make small gifts. This was a sketchbook painting that I made from the German Expressionism exhibit at the Museum of Modern Art. Then I sized it, made multiple copies of it in Photoshop, and printed 5-6 of them on the same page of cardstock.

Here is my earlier blog post about making magnetic bookmarks. Back then I was using magnetic strips purchased in craft stores.
http://www.paperandthreads.com/2007/07/magnetic_bookmarks.php