End of Year Potpourri
January 4th is the 8th anniversary of my blog. I had no idea that I would enjoy connecting with a creative world as much as I do. I've met wonderful artists online, and then in person, and shared so many experiences. And the blogs that I follow are a continual source of inspiration and information.
I want to wrap up a few projects now before I write a Happy New Year blog post and my yearly "Progress and Goals".
Bookbinding: I made another watercolor sketchbook using hand dyed fabric for the book cloth. This is the 21st cased-in book I made using my dyed fabric and the 48th watercolor sketchbook for daily drawing and painting. My earliest books were spiral Aquabee and Moleskine watercolor books. The rest of my handmade books are travel sketchbooks and figure drawing books.
By making my own books I can control the size and the paper - and that keeps me happy.
.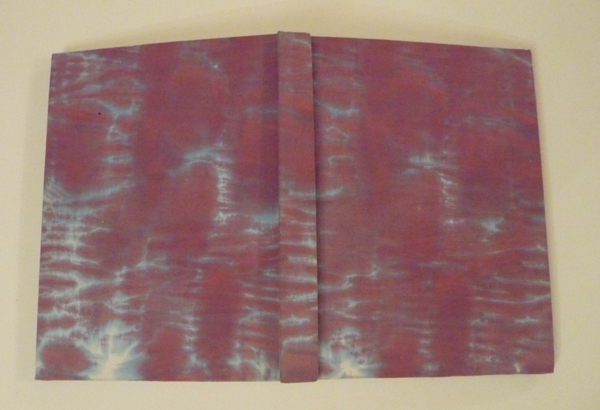 2. Paper: This is a page in a watercolor pamphlet stitched book that I started several years ago to draw and paint the tree ornaments that I made since 1976. While the tree is up I try to identify all of the ones that weren't painted yet and this year I found two hearts from wildly different times.
Here is a link to this project and previous pages (although 6 pages have never been posted): http://www.paperandthreads.com/2012/12/paintings_of_christmas_ornamen.php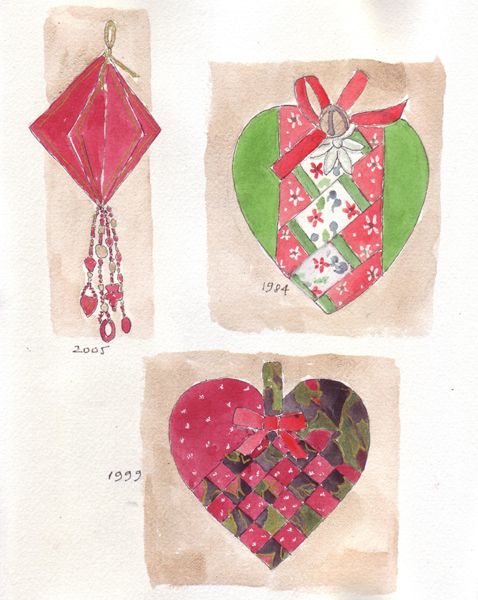 3. Threads: Here are the final products from my Santa's Workshop 2013 - a cotton velveteen quilt and photo pillow for my 2 year old grandson William. We are going to visit him right after New Year's, so these were the last gifts completed.
This quilt design was developed when Henry was 2 (now 10) and every grandchild loves the texture of the velvet on one side and cotton on the other. I machine quilt them in a crosshatch design and they are completely washable.
The photo was taken this Fall and I printed it on EQ fabric sheets.