Reflections on 2013
HAPPY NEW YEAR TO EVERYONE AND BEST WISHES FOR A GREAT 2014!
It is time for me to reflect on my accomplishments in 2013 and set a few goals for 2014. This is my review of 2013 - I'll add my plans for 2014 at the end of the week. I do this each year and find that it really helps me focus, without being too constraining.
My interest in drawing restarted when I partially retired from Medicine in the summer of 2005. I found the Everyday Matters Yahoo group online and joined in September in order to learn more about sketchbook art.
My interest in drawing and watercolor painting intensified and my blog was born on January 4, 2006 so I could fully participate in this wonderful online art community. Since then I've been teaching myself and learning from art blogs, books, and museum exhibits. My sketchbooks definitely give extra meaning to my life in retirement.
My long term art goals were developed after I retired completely in 2009 and remain the same:
To develop better drawing and painting skills on paper and with dye-painting and surface design on fabric.
2013 Goals and Progress
1. Sketch everyday and blog twice per week, expanding my knowledge of art, various media and techniques, and bookbinding.
I didn't sketch everyday, but there were enough days that I filled multiple sketchbook pages, thereby averaging more than one/day over the year. I have trouble finding something to sketch during quiet days in the apartment because I think I've sketched almost everything!
In January I decided to sketch/paint a series of elephants from photos and videos, using every type of pen, pencil, paint, and pastel that I own. Over the next few months I did 20 and learned lots about the tools I have. My favorite elephant was created using painted paper made on a Gelli plate and the collage techniques of Eric Carle.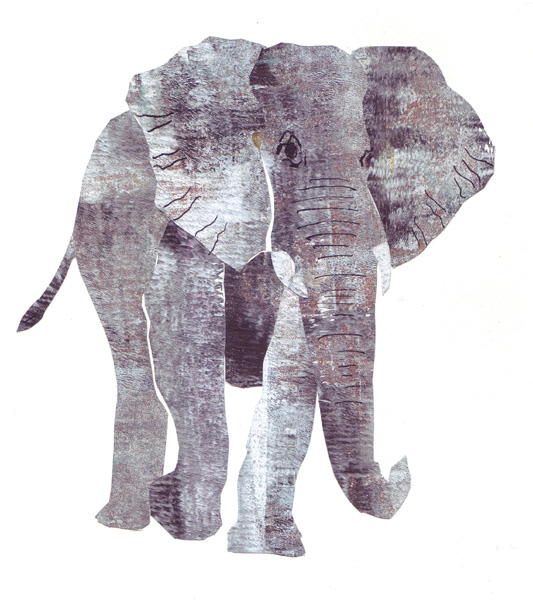 Most of my other daily sketches are done in museum exhibits, while traveling, during times with my grandchildren, and when I wanted to practice a skill (especially figure drawing at the Society of Illustrators and the Battery Park Conservancy).
2. Take more classes.
In 2013 I took a one day class on Making Paste Paper with Lynn Gall at the Center for Book Arts and a one semester class called Figure Drawing I at the Fashion Institute of Technology.
I love to take an occasional online class to remain inspired and took Kate Johnsons "Ink and Watercolor Wash" miniclass, a Strathmore online class with Steven Cefalo called "Drawing on Toned Paper," and a class by Mary Ann Moss called Sewn - which was really an opportunity to create designs on paper with every tool and many types of paint and ink that I have.
3. Learn More Bookbinding Techniques
I make my own watercolor sketchbooks using the Cased-In method and during the last 5 years learned several other techniques. But I never made books using many of the classic/standard methods and decided that I'd like teach myself - making it a monthly project throughout the year. Each month I researched the history of the chosen structure, watched some You Tube videos, and established a method from my growing bookbinding library.
In order, from January through September, I made: Coptic, Long Stitch, Flag, Accordion, Portfolio, Japanese Stab, 7 Folded Book Structures, Two Sewn as One, and a Flexagon.
During the year I also made several other books using pamphlet stitches and an experimental book structure combining Coptic stitching on an accordion and a single "flag" in each accordion fold.
Here is the pile of books made: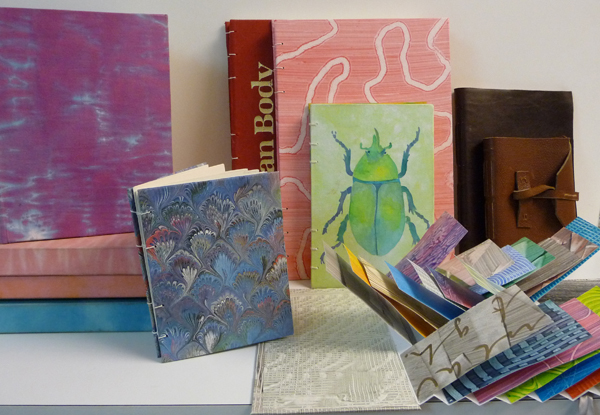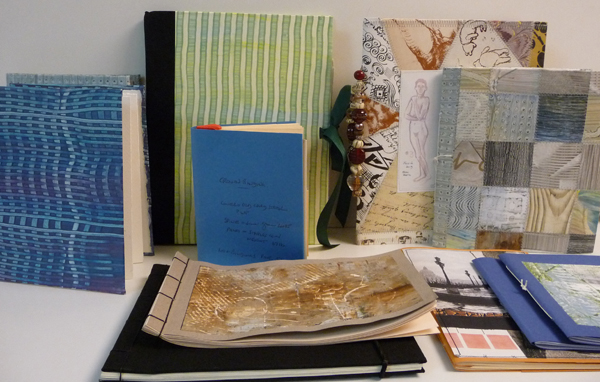 For anyone who would like to see individual blog posts, there is a bookbinding category on the right side of my blog if you scroll down.