Another Project Begins
I periodically work through a series of exercises in a book. This process is important to me as I explore new techniques or refine skills. In December I saw a new, exciting book mentioned on Beth Berman's blog: Finding Your Own Visual Language by Dunnewald, Benn, and Morgan. Although I draw and paint on paper, I also make stamps and stencils to use on paper or fabric and love using corn dextrin and soy wax resist with procion MX dyes to make fabrics for my projects.
Jane Dunnewold was the Chair of the Suface Design Studio at Southwest Craft Center in San Antonio Tx when I took my first fabric dying class and a silk painting class in the early 90s. I love her fabrics and devoured her books Complex Cloth and Art Cloth. That made this book even more appealing.
There are 16 Visual Exercises in the first section of the book, and I am currently working on Exercise 2.
In Exercise 1 - Splitting Shapes, I selected a square as my shape and made many 1.5" squares from black paper. Each square was cut into at least 3 pieces and then reassembled as a square and glued in place. I made 8 and then just kept going to do another 8. Here are my two pages of "fractured squares."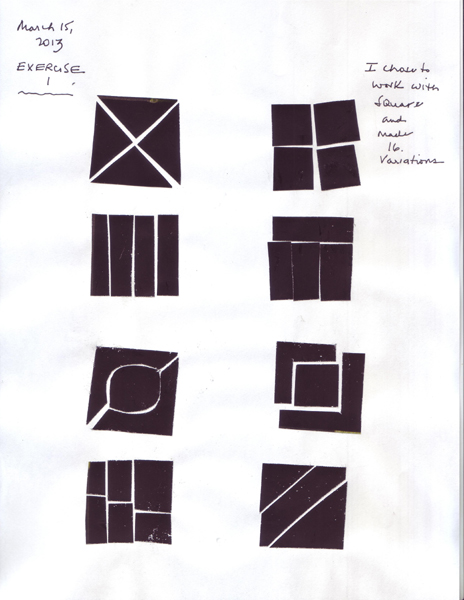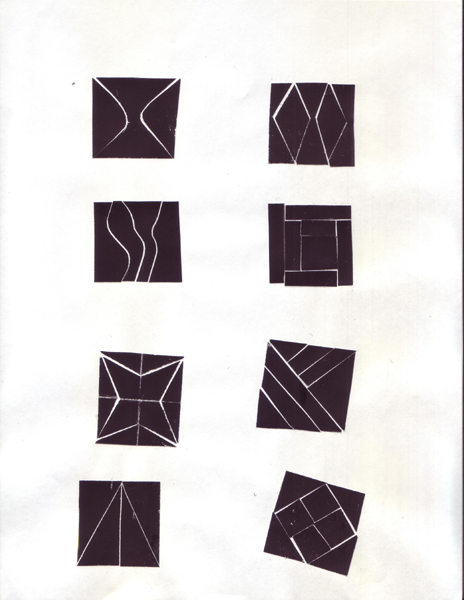 Exercise #2 is 30 Days of Cutting Stamps. I make stamps from fun foam, even complex ones to create multicolored images. But I have no experience carving stamps, so I plan to use Speedy-Carve and Moo Carve and my Speedball Lino Cutter Assortment for this exercise. I can cut my 4 X 6 X 0.25" Speedy-Carve into 24 1X1" pieces and then make 6 slightly bigger stamps with Moo Carve to complete the series. I also work in sketchbooks that are 8 X 8 max, so little stamps work better for me.
I don't have a black stamp pad - so these images were made with Staz-On and Colorbox pads. I feel more confident about the carving lines with each one. This is good practice!