Recent Museum Visits
The Metropolitan Museum of Art in New York has a wonderful new exhibit (through May 27th) entitled Impressionism, Fashion, and Modernity. The exhibit explores how the fashion of the time influenced the impressionist painters, in both portrait paintings (where presumably the subjects were wearing these clothes) and in paintings set in different venues. There are many dresses, men's jackets and pants, and accessories.
I sketched accessories - loving the composition of the corsets lined up on forms and items enclosed in one long glass case.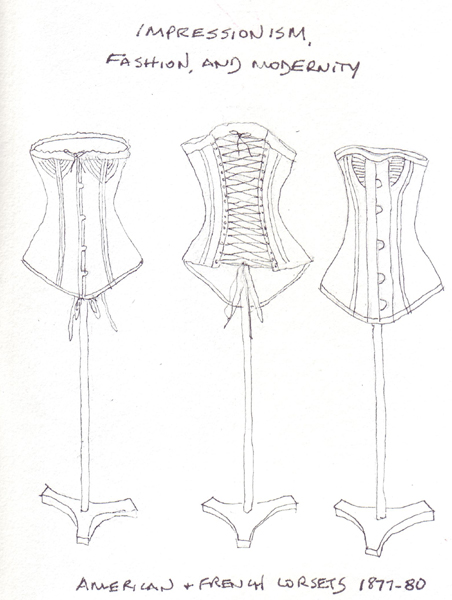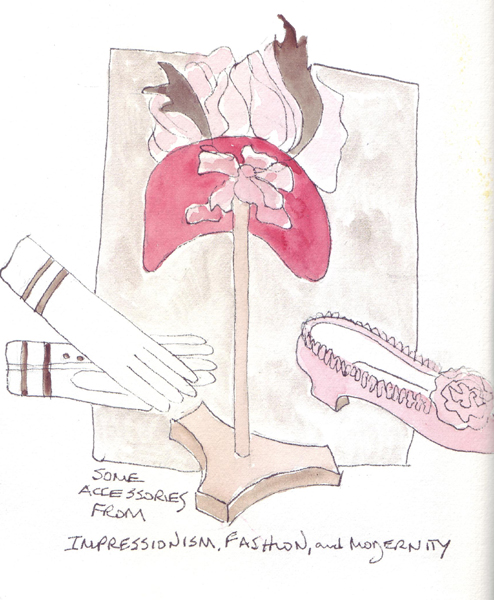 Yesterday Pat, Benedicte, and I met Gwen and Phil Diehn for brunch and a visit to the Frick Collection. They currently have 7 Piero Della Francesca paintings (through May 19th) and 3 rooms of drawings: The Impressionist Line from Degas to Toulouse-Lautrec. All of the drawings are on loan from the Clark Art Institute (through June 16th).
There were at least a dozen that I wanted to draw, but finally chose Degas After the Bath - 1891-2. I used a 2B graphite pencil and tried to replicate the heavier lines in the original.