Making Things
My grandaughter Sydney loves to make things. I definitely recognize that need and try very hard to get her alone so we can play together creatively. She is now 7 1/2 and for the last several years has slowly been learning how to use my sewing machine. Long term readers of my blog may remember previous blog entries as we inched our way toward full competence.
She finished 1st grade last Friday. We came home from the beach on Monday. And we had a "creative day" immediately scheduled for this week. One day turned into two days, two overnights, and two sewing projects. As soon as she walked in the door, she asked if she could sew. I was anticipating this and decided I would have a project in mind.
I bought quilted placemats for my young children in 1981 in Ghirardelli Square, San Francisco, and then designed and made more using the same concept. Our family used and washed those placemats almost daily for years. I brought them with us to NYC in 1993, as patterns/prototypes to make more, but my grandchildren saw the originals and loved using them for all of their meals here with us.
Sydney selected patterns that I drew, but never made, and over the course of 2 days made two placemats! I worked with her, teaching her how to use an iron, adhere fusibles, and applique using a satin stitch. Here she is using the sewing machine!! I now only have to stand behind her. When I told her the eyes were going to be hard to stitch on, she said "I'm ready for it!" She even wanted to thread the machine and change bobbins by herself! And did.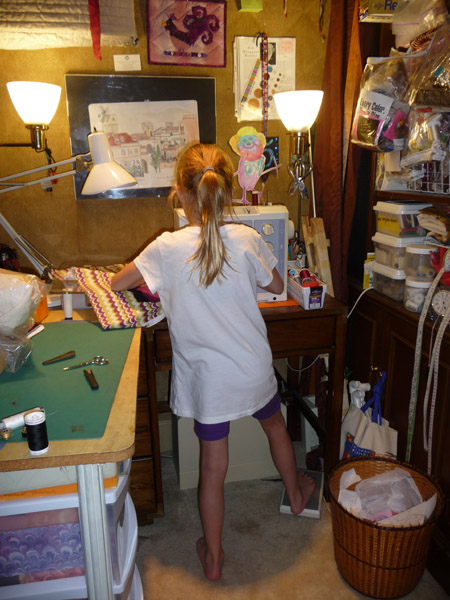 Sydney with her two completed animal placemats: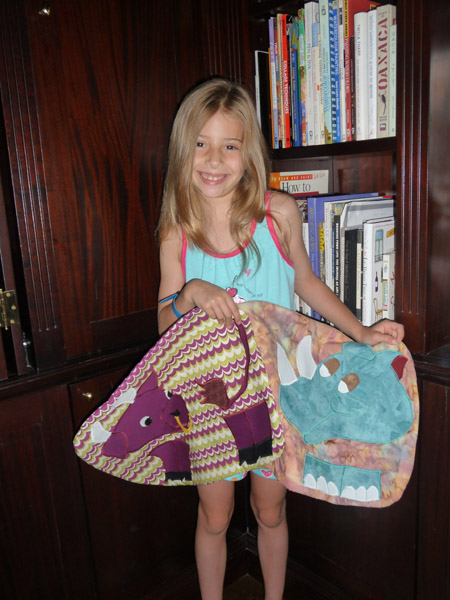 Here is the Rhino - each animal has a head, feet, and tail. Wish I knew who made the handmade originals I bought 30+ years ago. I expanded the concept into a full set of animals and designed more.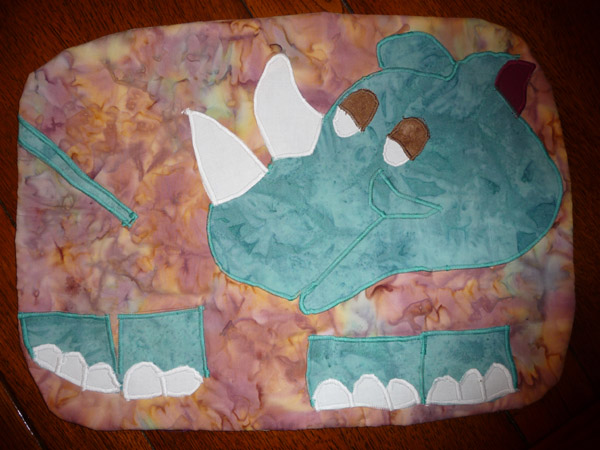 And here is the bull: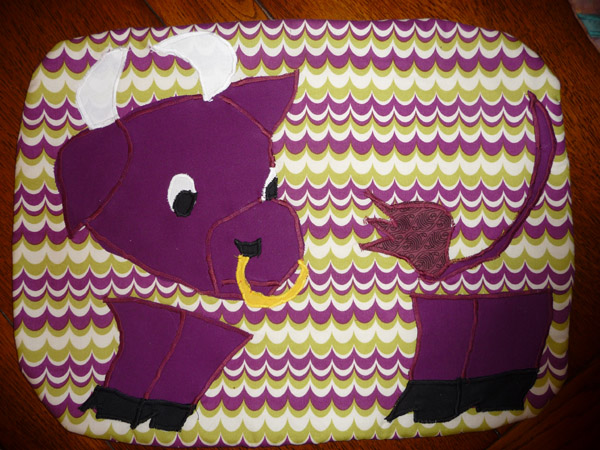 When one of her brothers came to pick her up this morning, she told him the rhino would be his to use, whenever they eat here, from now on. Up until now Cal and his cousin Robbie (one of my sons' boys) share the dragon!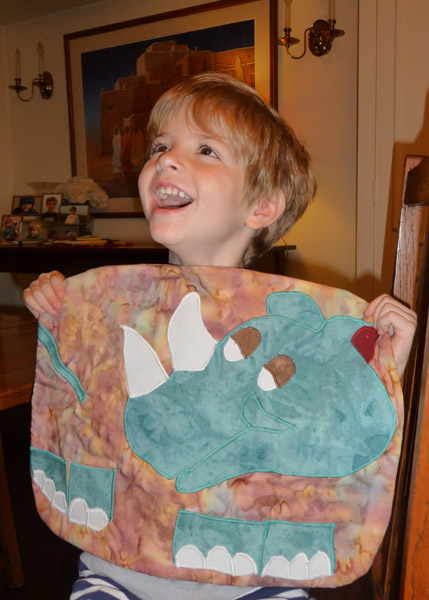 Addendum: I finally found the blog entry I wanted to include in this blog post on why children need to taught to make things.
http://annmariethomas.typepad.com/annmarie-thomas/2010/02/why-making-matters-from-ted2010.html