Venice Sketchbook - Final Part
This will be the last blog post about our recent trip to Venice. The other 8 sketchbook pages were done at restaurant tables, on airplanes etc., and could have been done anywhere, meaning there is little that would make you think of Venice when you see them.
I love seeing the very elaborate masks in the best Mask Shops. And I needed to paint one of them in my sketchbook to remember them. The gray color on the mask and background is Winsor-Newton silver gouache. I squeeze out a little, let it dry with my watercolor paints in my palette, and rewet it when I want to use it. I also used gold gouache while we were traveling.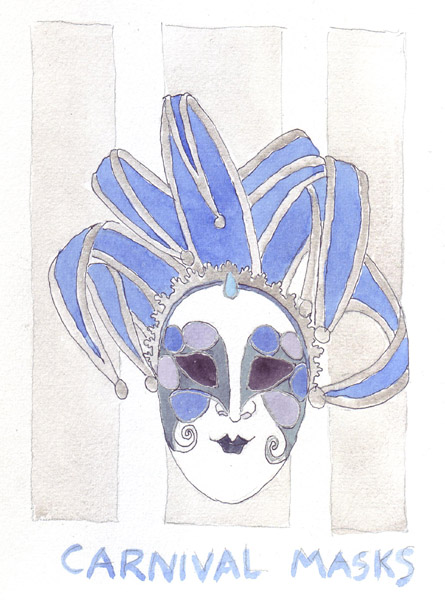 This was our set of apartment keys for the week. Our friends who shared the apartment had a similar set. The apartment owner met us early on our final day, to check us out, and direct us to the Alilaguna boat back to the airport. I was really sad to leave this apartment in a 16th C. Venetian palazzo. It really felt like our home for one week.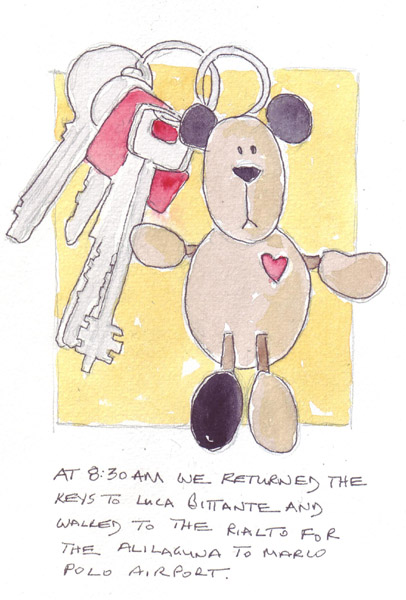 I created a grid for for daily notes before we left New York, and filled in the highlights of each day so I could remember our visit. The Weather, Morning, Afternoon, and Evening notes were usually written right before bed or when I woke up the following morning. I almost always put a layout like this in my travel sketchbooks before I leave home and include it here just to demonstrate the technique. I'm sure that my writing is not readable.