Sketching Daily
There are periodic projects re: daily sketching on the websites/blogs that I follow. As a new Everyday Matters (EDM) online art group member, (Jan 2006) I committed to drawing/painting daily as a method to improve my skills and continue to learn. While it was a wonderful decision, and I now have a big body of work and many wonderful memories captured in sketches in a big row of sketchbooks on my shelf, sometimes it is hard to decide what to draw on otherwise uneventful days.
I sketched so many things in my apartment, that I sometimes wander around trying to get inspired. This week, a blog post of a fellow EDM member, was all about this lack of inspiration as she commits to 365 days of drawing.
My Current Solution for this Lack of Inspiration:
Readers of this blog may remember that I was obsessed with the Museum of Modern Art Print Studio from late January through early March this year, and created small pamphlet bound collage books each time that I was there. You can see those blogposts here and here. On the last afternoon I was there, I sorted through my leftover copies from the Reanimation Library and collected all of the unused figure drawings. I made a book I called "Draw Me" and then used it at home for figure drawing practice.
Then I selected unused artists' drawings of people and glued them on pages in a another "Draw Me" book that I will eventually bind with a pamphlet stitch. I keep this booklet near my drawing space and now I have some wonderful drawings/paintings that I can try to recreate to improve my own art skills. Unfortunately, I have no information about the original artists - most of these were book illustrations without attribution.
Book Cover: Collage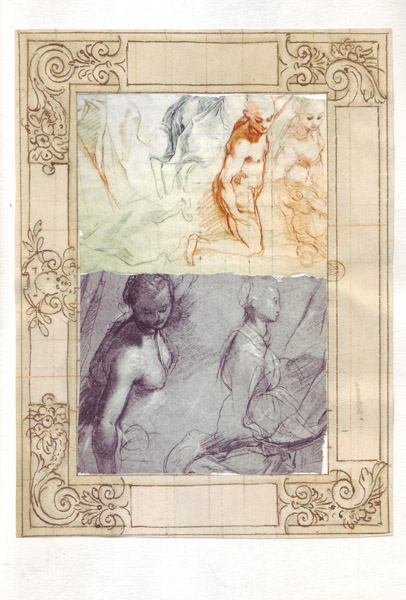 Drawings: Original and my drawing (with type of pencil listed underneath)