Figure Drawing on Fabric
I originally saw quilt journal pages at the Houston Quilt festival in 2002 and made many in 2003. Conventionally, these are small art quilts that are 8.5 X 11" in size, although there aren't any fixed rules. This year I decided to make more, using my figure drawings as inspiration and exploring a variety of ways to transfer the images to the fabric. I finally had time to play this week and made two.
Quilt Journal Page #1: (Note: forgot to take my handsewing needles out - upper right corner)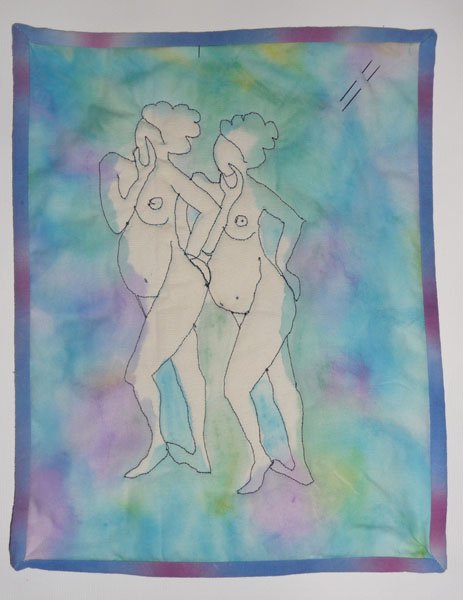 I transferred the image to the background fabric and stitched around it with free motion quilting. The background was colored with Neocolor II wax crayons and the entire piece was bound with hand-dyed fabric.
Quilt Journal Page #2: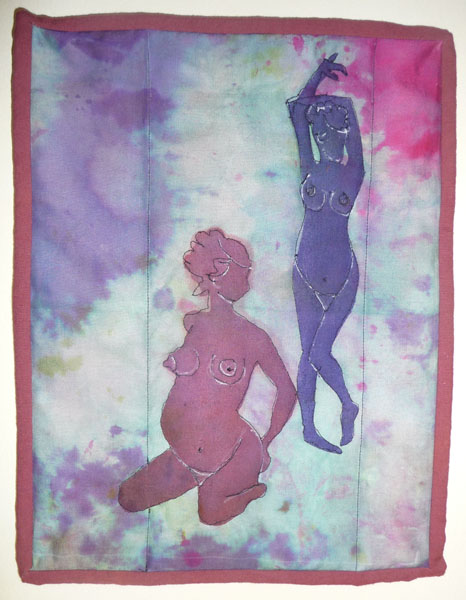 The two images were stenciled with Jacquard fabric paint on a hand-dyed background fabric, and then quilted with free motion and straight stitching. The binding is hand dyed fabric from my stash.
I still haven't tired of the images of the pregnant model from my figure drawing class, even though I used them to make many stamps and several small artist books. I will probably use more of them to extend this series as I explore more fabric surface design techniques.