More Figure Sketching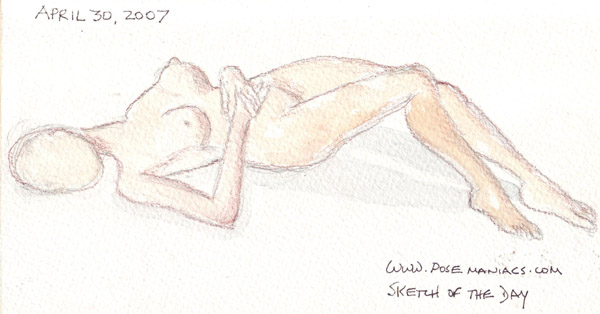 I am trying multiple methods to improve figure drawing and at this moment I'm still primarily doing outline drawings. During April I recycled a book of Michaelangelo's sonnets and I incorporated some of his drawings among the new pages for inspiration. The above sketch is based on a Posemaniacs.com figure of the day. I used pencil and some watercolor wash.
Several sketches from a photo of a baby - to try to capture their chubby hands, chubby feet, and big eyes. These sketches were done using colored pencil on one of the original sonnet pages that are on the back of the page with Michaelangelo's drawings.
This is my journal page from May 1st - another daily pose from posemaniacs.com. Yesterday I posted this week's EDM Challenge which was done on May 2nd. Tomorrow I'll post museum-inspired journals pages from May 3rd and 4th. I'll then continue to post journal pages sequentially and I'm just hoping that I have time to post everyday in MAY.