Every Day in May
Here are journal pages from May 3rd, 4th, and 5th. I think it might be easier if I at least scan them daily, because my evening hours are too short to do everything I want to do. I definitely won't take the time to also upload them to the Every Day in May Flik'r group.
May 2nd: There was no sketching or photography allowed at the Met's exhibit "Barcelona and Modernity." But I was taking a few notes in a really small notebook when I saw the Gaspar Homar's 1905 furniture design drawing. I still think like a quilter and I still collect images that I want to save for textile projects. The guards couldn't really see that I was sketching instead of writing. The top half of the image is Homar's and the bottom half is my addition. The colors are all mine.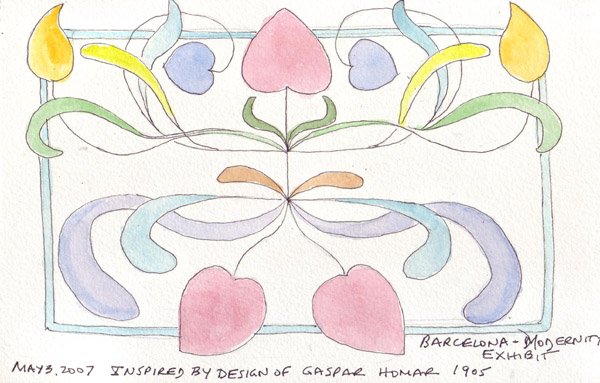 May 3rd: I was permitted to sketch in the "Venice and the Islamic World" exhibit and among the many pieces of Venetian art that were inspired by their Islamic trade, I found this "ewer." The surface was marbelized, something I couldn't do on this journal page. However, I tried to capture the shape and colors.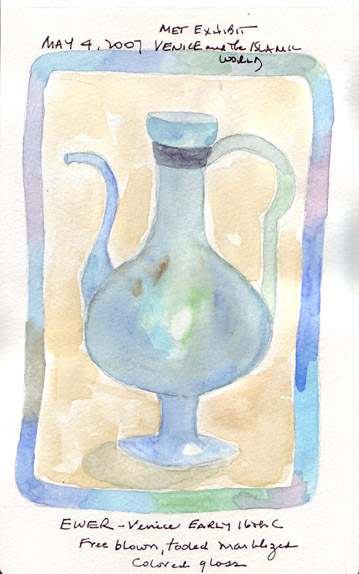 May 5th: I was "stuck" on the last exercise in Lesson 3 of the Elsworth Watercolor Skills Workbook because I don't love landscapes. My city landscape has really tall buildings everywhere! I finally decided to work from one of my photos, taken during a wonderful trip to Sorrento and the Amalfi Coast in Oct 2005. The exercise was to paint a landscape using the layer-on-layer method - and here is Mount Vesuvius from Sorrento on a partially clear day.