EDM Challenge #117:Draw Something Round
I draw everyday so my commitment for this month is to upload one of my journal pages for every day in the month - which I never previously have done. This one will be out of order because I wanted to post my EDM challenge today. On Sunday I'll upload all of the other sketches.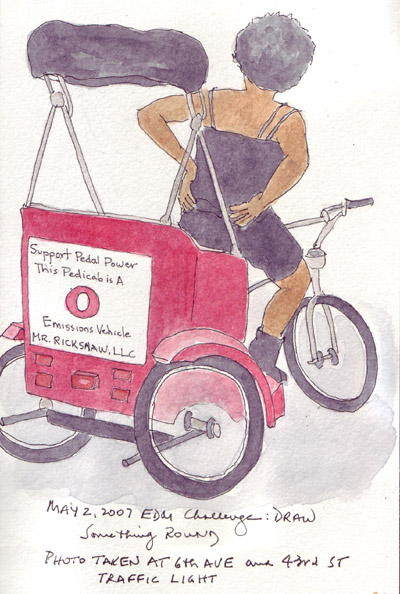 Three "sorta" round wheels: I was leaving the International Center of Photography exhibit several weeks ago - really inspired by Henri Cartier Bresson's philosophy about impulsive actions, when a red pedicab pulled up to the light as I was crossing 6th Avenue. The beautiful driver, then sat up and placed her hands on her hips - exuding power and confidence. I managed to quickly take one photo before the light changed and she pedaled on, but I was fearful about sketching from the photo because I couldn't figure out how to sketch so many spokes on 3 wheels. I even asked for advice from this group - and sketched "the anatomy of a bicycle wheel "from our bike rack at work. But, when I saw the magnificent tandem bicycle in the large painting by Ramon Casas at the Barcelona exhibit at the Metropolitan Museum of Art, I realized the wheels had NO SPOKES - and I might never have noticed if I weren't obsessing over this photo. As soon as Karen announced the challenge for the week, I knew I had to do this - without spokes.