Covid Sniffer Dogs Working in Miami Airport
The dogs identification of coronavirus is almost instantaneous. Sniffer Dogs have 50 times as many receptors in their nose as humans and dogs can be trained to recognize drugs, explosives, many other items and now coronavirus infections. I wrote about 10 Covid sniffer dogs in Helsinki in October 2020 (http://www.paperandthreads.com/2020/10/sniffer_covid19_dogs.php) and learned that if they were already trained with other scents, it took only a short time to train them to recognize Covid infections. Then there wasn't any other news that I saw about the use of sniffer dogs since then. Now 2 purebred and 2 "pound puppies" were trained and will be used in a 2 month pilot study in the Miami Airport, the first in the US. In the beginning they are identifying infected airport and airline employees as they report to work. Then they will be moved to other areas in the airport to check passengers. The passenger dog testing will be voluntary.
Cobra and One Betta (a Belgian Malinois and a Dutch Shepherd) spend their shift sniffing employees' face masks to detect coronavirus in sweat, breath, and scents that develop in an infected human body. If the dog detects the virus, a rapid virus test is done for confirmation. Florida International University researchers did a double blind trial with the dogs and found that One Betta's accuracy rate was 98.1% and Cobra's was 99.4% accurate.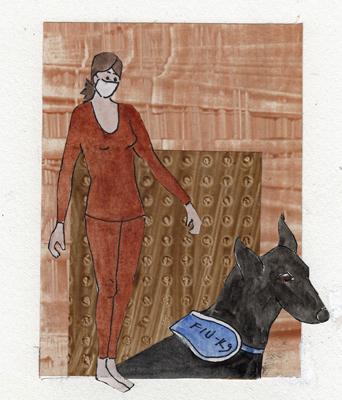 Sniffer dog screening, when certified, could reduce the time needed to screen passengers before flights. The Miami Airport is one of the busiest in the US.so the pilot program should have lots of opportunity to collect more data on the sensitivity and specificity of the sniffer dogs during the study. The dogs have a favorite ball they like to play with, and when they see it they know they will go to work and then get their playtime!