Sniffer Covid-19 Dogs
Sniffer Dogs Make the News:
Humans have 6 million receptors for smell in their nose, dogs have 300 million receptors, making them very good at detecting volatile organic compounds made in our bodies. They have been trained to detect malaria infections, bacterial and viral infections, bombs, contraband in luggage, and some types of cancer. Several weeks ago the New Your Times published a story about sniffer dogs being trained to detect infected covid-19 patients in the Helsinki airport. Read More Below.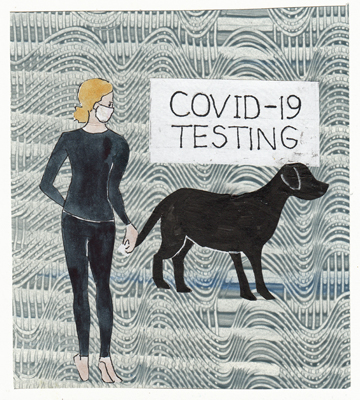 They trained 16 dogs and expect to have 10 in the airport by the end of November. Six dogs weren't able to work in the noisy environment.
The dogs can detect Covid-19 infections in less than 1 minute and can be used with a trainer to screen travelers in lines in airports. The dogs can detect the Covid-19 infection in asymptomatic people, and test sensitivity is as high as 85 to near 100%, with equally high specificity. Dogs who have been trained for other scents can learn to detect Covid-19 infections in 1 week, If they have never been trained with other scents, it takes significantly longer.
Similar trials are being conducted in the UK, France, Germany, Lebanon and the US (at U Penn Vet School). Dogs are being trained to sniff saliva, nasopharyngeal secretions, sweat, and urine. In Helsinki passengers wipe their necks with a wipe and then put the wipe in a cup for testing.