Vaccination vs Variants- A Race
President Biden announced a very vigorous vaccination program Thursday night - with televised messages from past Presidents, creation of more vaccination centers, especially in the medically underserved communities, and even mobile vans to go to the people. He also announced a country wide federal web-based program to link people with their nearest vaccine centers to make vaccination appointments. By May 1st all 18 year old and older people will be eligible for the vaccines and enough vaccine is being planned so supplies won't limit the biggest ever vaccination program in this country.
As of this week 341 million does in 121 countries have been administered at a rate of 8.51 million doses per day. In the US more than 101 million doses were given with an average of 2.30 million doses per day. At this rate it could take 5 months to vaccinate 75% of the population with the two-dose vaccines. If we would like to have an effect on this pandemic we need to make sure we encourage our friends, families, and coworkers to get vaccinated, while wearing masks, socially distancing, and avoiding crowds to try to bring the new case numbers below 10,000 per day.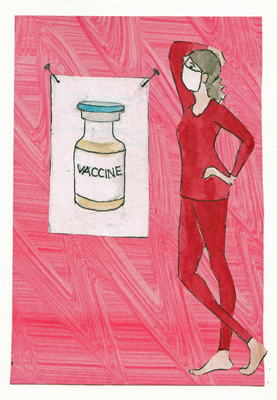 These vaccines were tested in over 70,000 volunteers in Phase 3 trials, and since then many millions of us have received the vaccines, and the safety record is great. Most of the complaints are local reactions at the injection site and/or flu like symptoms for 24 hours, more after the second doses. There are many federal systems set up to collect each and every side effect, and they all are reviewed by scientists and physicians at the CDC.
This week, when viruses from the current positive cases in New York City were studied to assess the presence of mutations, 12% of them were the UK (B.1.1.7) variant and 39% the NYC (B.1.526) variant. It appears that they are spreading easily, and we need to decrease their spread wherever possible while we race to vaccinate even more quickly. The more infections we have, the more opportunities there are for more mutations to occur. Epidemiologists worry that we are at the brink of another surge, as states reopen and variants which are more transmissible spread very quickly. And children are more susceptible to these variants. Please continue your mitigation activities!